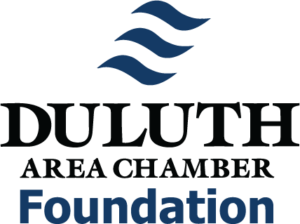 As a board and staff, the Duluth Area Chamber is very excited to launch a new initiative which will give us an opportunity to deepen our impact on our members, community, and economy: the Duluth Area Chamber Foundation.
Many Chambers, especially large ones such as the Duluth Area Chamber, operate with a Foundation. Over the past year, Chamber President Baumgartner and Board leadership were intentional in doing research on Chamber Foundations and even involved third party entities from outside our organization such as a strategic planning consultant, an HR consultant, and attorneys in employment and business law. Further, we consulted with accounting and finance professionals to ensure best fiduciary practices would be in place. This diligence only affirmed our realization that with a Foundation, we can do more in service to our members, businesses, and community.
Introducing the Duluth Area Chamber Foundation
Launching a Foundation, in conjunction with a policy and advocacy position, gives the Duluth Chamber the opportunity to deepen our impact on our members, community, and economy. Simply put, having a 501(c)3 arm of the Duluth Area Chamber opens the door for state and federal grants, private tax-deductible contributions, and other funding, which otherwise the Chamber may not be eligible for, and allows us to direct those funds to where we can have the most impact for our members.
Foundation funds may be used to help support local businesses and the community with initiatives like public policy and political advocacy work, workforce development and recruitment, market based research, equity and inclusion work, funding for the Duluth Chamber's Military Affairs Committee (MAC) and Policy Committee, recruiting and supporting developers for much needed housing and other economic development projects, key Chamber programs like Duluth & St. Louis County Days at the Capitol and Leadership Duluth , and much more.
Donate to the Chamber Foundation
Contribute to the Duluth Area Chamber Foundation to help us support you and continue to effectively advocate on your behalf.
Please consider making a tax-deductible contribution to the Duluth Area Chamber Foundation online or by sending a check to the Duluth Area Chamber Foundation, 5 West First Street, Suite 101, Duluth, MN 55802.
2023 is poised to be a historic year for our community! We have already seen increased impact and positive momentum building in 2022 and will be aggressively building on that momentum in 2023. There is a lot of work to do, and with your partnership and support we know this could be our most successful year yet. Thank you for your support.
Connect with Daniel Fanning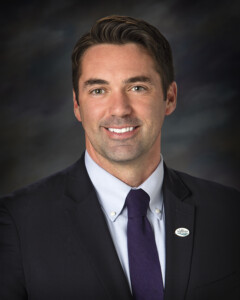 We invite you to connect with Daniel if you have any questions pertaining to policy initiatives or the Duluth Chamber Foundation, and/or if you are interested in contributing to the Duluth Chamber Foundation. With your support, we will continue to strongly advocate for our membership and the business community while working to address a number of key issues that many of you have shared with us over the past year and during our strategic planning listening sessions.
We look forward to working with you as we continue to move business forward in the Duluth area.
Daniel's experience in legislative advocacy, public policy, public relations, and building relationships, coupled with a formal education in leadership, makes Daniel the ideal fit to grow our influence at City Hall, the State Capitol and beyond. In addition, Daniel joins us with proven skills in fundraising and nonprofit leadership that will help establish and grow the Duluth Chamber Foundation.
Daniel holds a Masters of Advocacy and Political Leadership from UMD, is a combat veteran with several years of military experience and decorated leadership, and has over 20 years of experience in government relations at the local, state, and federal level having worked for the City of Duluth, the State of Minnesota and the United States Senate. Further, he has over 5 years of proven executive experience leading a foundation to historic success.