Educate members regarding the benefits of their chamber investment and strive for continued membership retention. Serve as a business referral source, advocate, and information center while identifying the needs of our members and using feedback to enrich our programs. Promote economic development.
2022 Chamber Key Initiatives
Each year the Duluth Area Chamber Board of Directors collaborates to define goals for the upcoming year. Those goals become the priorities that steer our advocacy efforts, events, programming, and initiatives for twelve months. These items are presented in an Action Plan and delivered to our members, detailing our tactical goals to achieve greater economic growth.
The strategic 2022 Action Plan you see to the right is unique in its format. The Chamber's leadership team creatively conceptualized a matrix to not only define priorities for the year, but that also delineates the Chamber's influence on each initiative.
The three pillars along the top: Workforce, Business Conditions, and Core Mission, serve as our most critical, timely issues. These pillars will drive the Chamber team to work towards enhancing each priority listed through our events, programming, advocacy efforts, and member engagement.
The three gray arrows along the vertical axis are in recognition that the Chamber must serve its Mission and Vision first; we will uplift other organizations that strive to accomplish parallel initiatives. We asked ourselves "How can the Chamber best lead, collaborate, or support this goal?" By conceptualizing priorities  within this framework, the Chamber can operate in a space that leverages our strengths to lead initiatives within our capacity, collaborates with local partners to accomplish goals together, and supports organizations whose mission can also enhance the business environment.
This Action Plan will serve as the Duluth Area Chamber of Commerce's strategic path forward in 2022. Together, we will continue to marshal the power or our members, our board members and our staff, to ensure the greater Duluth, Minnesota area continues to be a successful, opportunistic, and encouraging place to do business.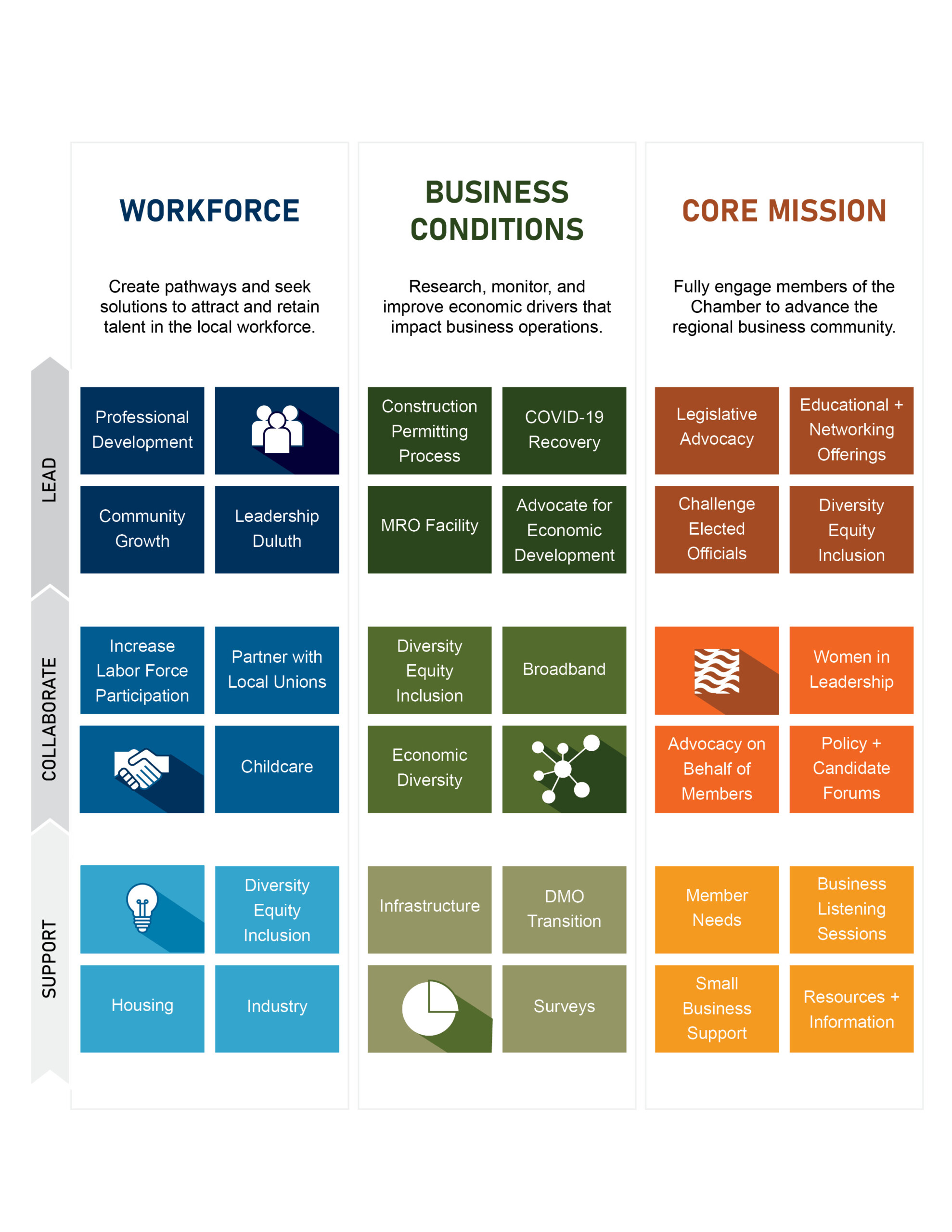 Download a copy of our 2022 Key Initiatives.
---
Duluth is a great place to live. Our Chamber is working to ensure it is also a great place to do business. We are partnering with organizations and individuals, in a shared effort, to move our beloved community forward. Good things are happening.
If you have questions about the 2022 Key Initiatives or how we are working to accomplish them, please contact inquiry*AT*duluthchamber.com.