Duluth Chamber Foundation surveys residents about priorities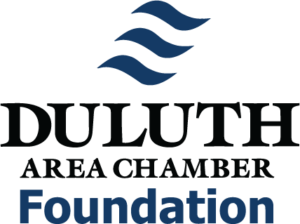 Homelessness, lack of affordable housing, downtown safety, taxes, street conditions and workforce challenges were identified as the top concerns of Duluthians in formal, citywide research commissioned by the Duluth Area Chamber Foundation in August. These and other findings will now be used by the Duluth Area Chamber Foundation to help prioritize areas of focus for enhancing the community's prosperity and livability, as well as improving business conditions and growing the community's tax base.
"Everyone has opinions about the strengths and challenges of our community, but you never really know if it's a smaller group of organized, vocal people or a large portion of the community feeling a certain way. That's why the Chamber Foundation took this step to invest in thorough, opinion research," said Daniel Fanning, Executive Director of the Duluth Area Chamber Foundation. "We now have solid, scientifically sound data to share with Chamber members and the community about what Duluthians truly think about priorities for the city and Chamber Foundation. This will help guide our work and priorities, as we want to help ensure we are supporting members and the business community the best we can and being the most effective advocate for our community and region. We know we've made some progress lately, and we know there's much more work to do. These survey results help us to stay focused on what matters most to our community, and where we can have the most impact."
Among the findings of the research:
• When asked to identify "the issue you are personally concerned about," 37% identified "homelessness and lack of affordable housing." Next were "city roads and streets" (21%) and "taxes" (13%), followed by "downtown safety and panhandling" and "overall crime and violence" (tied at 11%), "unemployment and jobs" (2%) and "lack of access to high-speed internet" (1%).
• Respondents' first choices for where the city should spend $3.5 million earned from its recent sale of a building to Cirrus were: "improving city roads and streets" (37%); "lower property taxes for homeowners" (25%); "improving public safety, including police, EMT and fire services" (11%); "improvements to parks, libraries and recreation spaces" (7%); "improvements to local utilities, including gas, water and sewer" (also 7%); and "creating a city-owner internet network for the Lincoln Park neighborhood (3%).
• The poll also included this question: "Which one of the following do you consider the top priority for the Duluth Area Chamber of Commerce and the Duluth Chamber Foundation to focus on in its efforts to help move business forward in the city of Duluth?" The top three choices were tightly grouped: Assisting with housing development (26%), advocating for business issues with local and state governments (24%), and services to support and celebrate local businesses (22%).
"Good research results in identifying areas of strength and areas requiring additional attention, and this poll was no exception," said Fanning. "Overall, the results are not very surprising. They confirm what we thought and are very consistent with what we've been hearing in conversations with Chamber members and the business community. We hope the community finds this information as useful as we do at the Chamber Foundation. We look forward to continuing to work with local government, local businesses and Chamber members, and citizens throughout Duluth to make ours the very best city possible in which to live and work. This is exactly why the Duluth Area Chamber recently refocused our efforts on policy, strategy and advocacy work, and launched the Chamber Foundation to help fund these efforts. This allows us to proactively address these larger policy issues and be part of the solution. We've already been working closely with the city, county, a variety of developers and other community partners on housing and other economic development and will only be increasing that work. We will also continue to advocate for enhanced downtown safety, street and other infrastructure maintenance, lower taxes and will be increasingly involved in workforce development and other critical and timely issues that our community continues to see as top priorities. Together, with the support of the community, we will continue to make progress towards our goal of making sure Duluth is meeting its full potential. Our community deserves nothing less."
The Chamber Foundation's citywide research was conducted Aug. 6-9, 2023, by Moore Information Group – a research group with a long history of working with a variety of Chambers across the country, including the Minnesota Chamber of Commerce and their Foundation. A total of 303 live telephone and text-to-online interviews were conducted among a representative sample of voters in the city of Duluth. The potential sampling error is plus or minus 6% at the 95% confidence level.
Fanning added that in the coming months the Duluth Chamber Foundation will be conducting similar and ongoing surveys specifically with Chamber members to continue to learn what the top priorities are among the business community. In addition, the Duluth Area Chamber and Chamber Foundation are partnering with the Duluth News Tribune to host a series of candidate forums this week to help ensure candidates for local public office are addressing the top concerns of the public, and of the business community/Chamber membership. Fanning stated these issues go well beyond any political office or election cycle, and that's why the Duluth Chamber Foundation is committed to this work for years to come.
# # #
ABOUT THE DULUTH AREA CHAMBER OF COMMERCE
The voice of business since 1870, the Duluth Area Chamber of Commerce serves as the premier advocate for commerce and industry by facilitating collaboration between the leaders of business, government, education, labor and the greater community. The Chamber, currently with approximately 1,000 members, actively creates innovative opportunities for business to advance within local and regional economies. To learn more, please visit: duluthchamber.com
ABOUT THE DULUTH AREA CHAMBER FOUNDATION
The Chamber Foundation was launched in 2022 as a 501(c)3 arm of the Duluth Area Chamber to open the door for state and federal grants, private tax-deductible contributions and other funding for which the Chamber of Commerce might otherwise have been ineligible. This structure allows the Foundation to direct those funds to where they can have the most impact for Chamber members. To learn more and/or to donate, please visit: duluthchamber.com/foundation.