Circle of Commerce Campaign
Debuting the Circle of Commerce Campaign
(October 2020)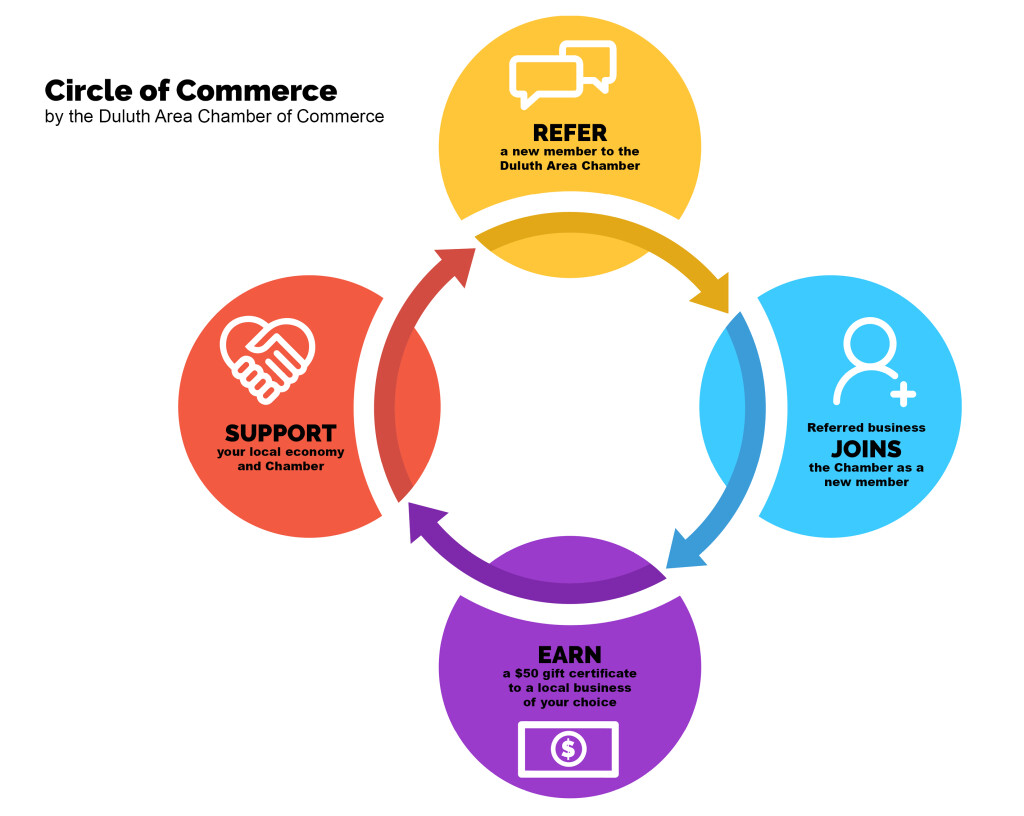 As the COVID-19 pandemic continues to shape the daily operations of the Twin Ports business landscape, the Duluth Chamber remains steadfast in our mission to provide valuable incentives to our members. We are always looking for talented new members to enrich and diversify our membership base, and there is no greater compliment than a new business joining our Chamber through a referral by a current member.
For the month of October, we are proud to present a new referral reward program:
THE CIRCLE OF COMMERCE CAMPAIGN
How it works:
Chamber members who refer a new business to the Chamber will be rewarded with a $50 gift card upon the referred business joining. The referred business must join in order for the referral prize to be earned.
Winning recipients choose which local business they would like to support with their gift card. To support your fellow Chamber members, choosing a member business for your gift card prize is highly encouraged.
Your referral will go on to support the work of your Chamber, introduce the referred business to the multiple benefits of Chamber membership, as well as stimulate our local economy—thus, creating a vital "circle of commerce" within our business community.
Referral instructions:
There are several ways in which you can refer a new business to the Chamber. If they would like to learn more about our membership benefits, you can email Membership Coordinator Aubrey Hagen at ahagen@duluthchamber.com and CC the business contact to make the connection. You can also send Aubrey their contact information and she will reach out to them to discuss membership.
If the business is ready to join the Chamber, they may fill out the online membership application here. Instruct them to list your name in the "Who referred you to the Duluth Area Chamber Chamber of Commerce?" inquiry box of the application so that you will get credit for the referral. They are also welcome to mail a paper copy of the application to our office:
Attn: Aubrey Hagen
5 W. 1st St, Suite 101
Duluth, MN 55802
Once the referred business is activated as a Chamber member, Aubrey will reach out to you to discuss which local business you would like to support with your gift card. The gift card will be purchased immediately and mailed to you, along with a personalized thank you note. Please ensure that you provide Aubrey with the best contact information to use to reach you.
Membership Benefits:
The voice of business since 1870, the Chamber serves as the premier advocate for commerce and industry by facilitating interaction among the fields of business, government, education, labor and the greater community. We actively create innovative opportunities for business to advance within local and global economies. Committed to moving business forward, the Chamber is the community's leading business resource and advocate.
The Chamber provides year-long opportunities for our members to enjoy plentiful educational offerings, network with other business professionals, and market their business. Because membership in the Duluth Area Chamber of Commerce offers numerous benefits and keeps business owners on top of important, ever-changing issues within our community and local marketplace, we have come up with an easy acronym for you to remember those benefits: NAME.
Networking

Consumers are 49 percent more likely to think favorably of a business and 80 percent more likely to purchase goods or services from a company that is a member of the local Chamber of Commerce. Meet colleagues and potential business prospects at Chamber events that will connect your business to others in the community.

–  Over 130 events held annually – many of which have adapted virtually or to a socially-distanced capacity to continue through the COVID-19 pandemic
–  Promote your business through an array of event sponsorship opportunities.
–  View our calendar to find upcoming events

Advocacy

The Chamber provides business advocacy by raising awareness of the critical issues that affect the business community, and assisting in the creation of solutions. Contact us when you have questions on issues that affect your business and we can help guide you to the proper resources. Each year, we release an Action Plan that lists our key initiatives.

–  Effective regional citizen lobbying event at the State Capitol – Duluth & St. Louis County at the Capitol.
–  Non-partisan Political Forums
–  2020 Action Plan
–  Public policy feedback
–  Issue-driven surveys

Marketing

Access your target market with countless opportunities to advertise to our 1,000 members. With various affordable options on our website, in our printed network mailers, or in our weekly email newsletter, we can help you promote your business in a way that best fits your marketing budget.

New members also receive a plethora of complimentary advertising simply for joining!

-New member marketing perks

An immediate listing in our online business directory upon joining
A feature in our weekly Week at a Glance email blast for 30 days (3,000+ subscribers)
A highlight in the New Member Spotlight in our monthly newsletter the Chamber Xpress
A complimentary social media welcome on the Duluth Chamber Facebook page

-Free ongoing member marketing

– Other affordable mail, email, website, and relocation marketing options

Education

Learn about relevant business-related topics and build upon your professional skillset with free educational opportunities taught by local business leaders throughout the year. Enjoy member pricing for our annual leadership program, informative lunch and learns, and professional development conferences.

–  Leadership training, programs and events
–  Free educational offerings taught by local business leaders
–  Informative lunch and learn events
–  Timely and relevant print publications: Duluthian Magazine and Chamber Xpress
– View our upcoming educational events
It is always an opportune time to become a Chamber member. We are here to be your most resolute advocate, and will continue to support, promote, and uplift our members during this challenging time.
We welcome any and all referrals that are sent our way, and look forward to rewarding the participants of this new, exciting campaign.
Curious to learn more about the Circle of Commerce Campaign?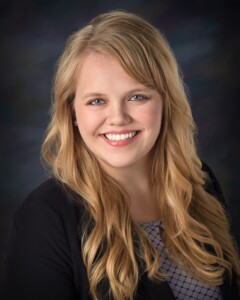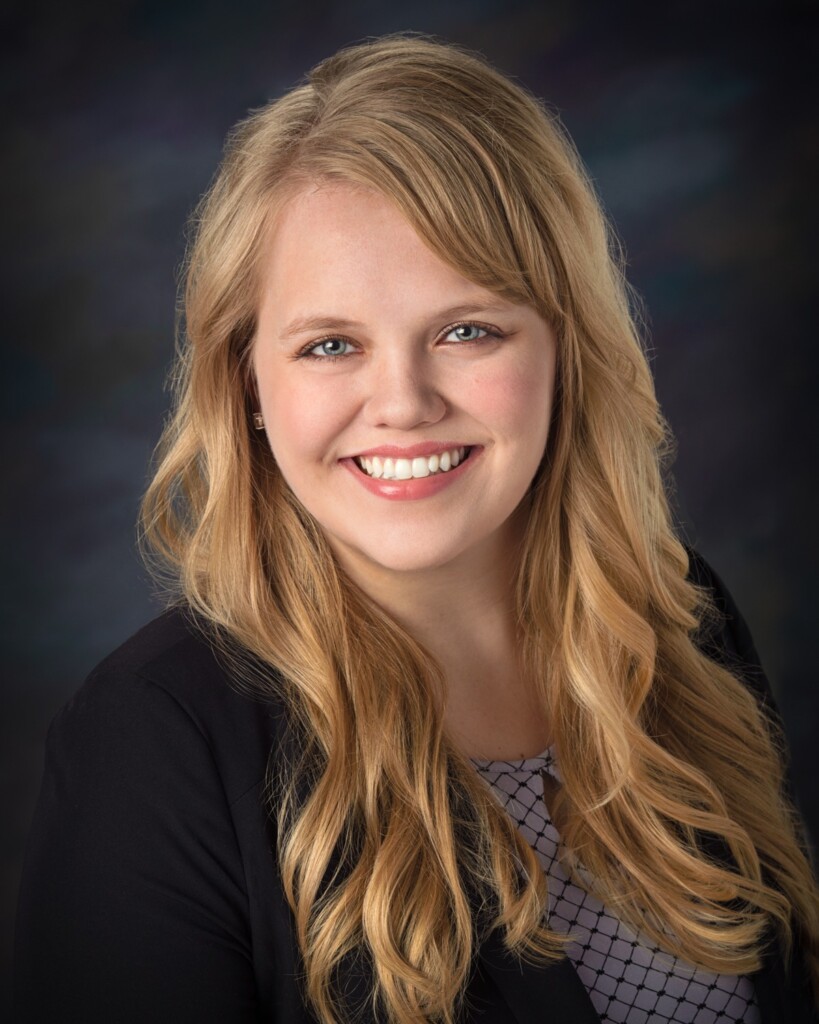 Contact Membership Coordinator Aubrey Hagen
ahagen@duluthchamber.com
218-740-3758
Helpful Links: