Business Resources for Coronavirus
 Updated:  1/14/2020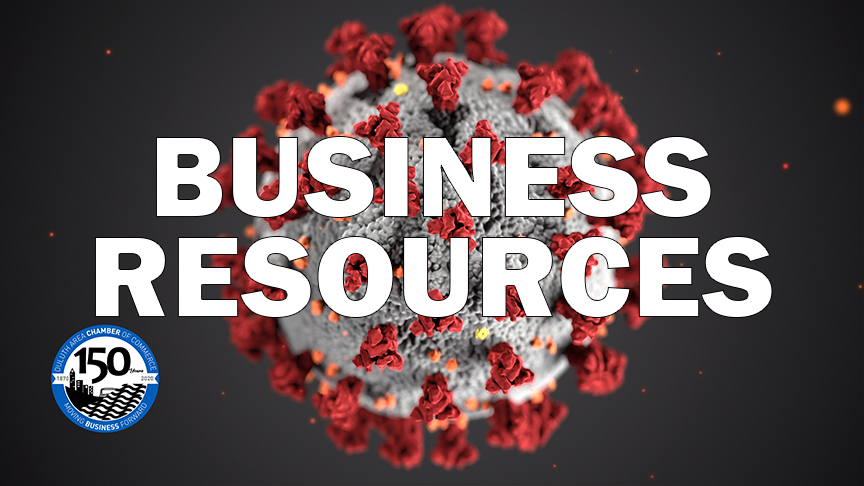 During times of uncertainty, our Chamber remains committed to providing your business resources to guide you. The well-being of our community and businesses is a priority. Following are articles, information, and tools you can share with your staff and use for your company. We will continue to update this list as we learn more.
→ Support, Buy, Gift, Eat Local
→ Coronavirus Resources + Helpful Tips
Minnesota's Stay Safe Plan – Dial Back
Restaurants and Bars –  50% capacity with a maximum of 150 guests.
Gyms and Fitness Studios – 25% capacity, distanced machines, class increases to 25 people.
Indoor Events and Entertainment – 25% capacity with a maximum of 150 guests.
Outdoor Events and Entertainment – 25% capacity with maximum of 250 guests.

Masks are required indoors according to Executive Order 20-81.
Loans and Funding
$216 Million Financial Aid Package for Businesses

On December 14, 2020, the Minnesota Legislature passed a $216 million financial aid package to provide grants to businesses hit hardest by COVID-19. $88 million is dedicated to businesses experiencing 30% loss, or more, of revenue due to the pandemic. $14 million to movie theaters and convention centers. Plus, nearly $115 million for Minnesota counties to distribute. The bill also extends Unemployment Insurance through April 2021.

Eligibility for relief was outlined as follows:
Located in Minnesota
Had at least $10,000 in taxable sales in 2019
Filed Sales Tax returns in 2019 and 2020
Experienced a 30% drop in year-over-year taxable sales for April-September periods
Required to temporarily close or reduce services by Executive Order 20-99

Businesses approved to receive payment should would have been notified by the MN Department of Revenue on your

e-services account

by 12/31/20.

If your business was not eligible and you did not receive a payment, the state is working on a process for businesses to dispute their payment amounts and/or eligibility. The state will soon be providing details to dispute eligibility and they will be included on their website as it becomes available:

https://www.revenue.state.mn.us/covid-19-business-relief-payments
Paycheck Protection Program ReOpens


The Small Business Administration announced that the Paycheck Protection Program will re-open starting 1/11/21 for new borrowers and certain existing PPP borrowers.

To promote access to capital, initially only community financial institutions will be able to make First Draw PPP Loans on Monday, January 11, and Second Draw PPP Loans on Wednesday, January 13. The PPP will open to all participating lenders shortly thereafter.

This round of the PPP continues to prioritize millions of Americans employed by small businesses by authorizing up to $284 billion toward job retention and certain other expenses through March 31, 2021, and by allowing certain existing PPP borrowers to apply for a Second Draw PPP Loan.

PPP borrowers can set their PPP loan's covered period to be any length between 8 and 24 weeks to best meet their business needs;
PPP loans will cover additional expenses, including operations expenditures, property damage costs, supplier costs, and worker protection expenditures;
The Program's eligibility is expanded to include 501(c)(6)s, housing cooperatives, direct marketing organizations, among other types of organizations;
The PPP provides greater flexibility for seasonal employees;
Certain existing PPP borrowers can request to modify their First Draw PPP Loan amount; and
Certain existing PPP borrowers are now eligible to apply for a Second Draw PPP Loan.
Child Care Grants

The Northland Foundation received nearly 300 applications from providers across the region and was able to make 180 grants totaling over $230,000. All available funds have been awarded.
COVID-19 Testing and Tracing
Minnesota and Vault Medical Services have teamed up to offer at-home COVID-19 saliva testing for everyone, with or without symptoms, at no cost.

Order a free home test – https://www.health.state.mn.us/diseases/coronavirus/testsites/athome.html

Free Community Testing Sites:

DECC – https://decc.org/blog/2020/09/30/covid-19-community-saliva-testing/

UWS – https://www.uwsuper.edu/ehs/coronavirus/covidtestingsite.cfm

Lake Superior Community Health Center – 4325 Grand Avenue – 218.722.1497

Hospital Testing Locations & COVID-19 Updates

Essentia Health – https://www.essentiahealth.org/covid-19/

St. Luke's – https://www.slhduluth.com/patients-visitors/patient-resources/covid-19/

New App Tracks Possible Exposure to COVID-19

COVIDaware MN uses Bluetooth Low Energy (BLE) technology to notify you if you have been exposed to COVID-19, so you can reduce the risk of infection for your friends, family, and neighbors, and help Minnesota slow the spread. Read more at https://covidawaremn.com
Unemployment Benefits
Shared Work Program to Avoid Layoffs

Shared Work is offered by the MN Unemployment Insurance (UI) Program to help employers avoid a layoff. The program allows employers to divide available hours of work among a group of employees instead of implementing a full layoff. These employees may then receive partial unemployment insurance benefits while working reduced hours.

The purpose of Shared Work is to avoid a layoff, not to subsidize wages. Shared Work can help employers avoid the difficulties that can go along with a layoff. If employees keep working during a temporary slowdown, employers can more quickly gear up when business conditions improve.

Learn more about the Shared Work Program on the Unemployment Insurance Division's website.

Unemployment Insurance

The Minnesota Department of Employment and Economic Development is encouraging people who've lost work because of the novel coronavirus to apply for unemployment benefits promptly.

DEED's Unemployment Insurance (UI) program assists workers who can't work, have their hours reduced or lose their jobs as a result of the pandemic. The UI program is prepared and ready to assist these workers. If you are unemployed or have your hours reduced, you may apply for unemployment benefits by visiting www.uimn.org.

Minnesota Students Now Eligible for Unemployment Insurance

A court decision on 12/14/20 has expanded eligibility of Unemployment Insurance to student workers in Minnesota, under Pandemic Unemployment Insurance. Minnesota Department of Employment and Economic Development (DEED) has begun issuing payments to student workers. Benefits will be retroactive.

Any high school or college-age student whose job has been impacted by COVID-19 should apply at 

www.uimn.org

, immediately. If you have already applied, you do not need to apply again. Eligibility is determined on a case by case basis.
Families First Coronavirus Response Act

The Families First Coronavirus Response Act (FFCRA or Act) requires certain employers to provide employees with paid sick leave or expanded family and medical leave for specified reasons related to COVID-19. The Department of Labor's (Department) Wage and Hour Division (WHD) administers and enforces the new law's paid leave requirements. These provisions will apply from the effective date through December 31, 2020.
Education and Counseling
Financial Support – Where to Start

Different programs make sense for different businesses. Minnesota DEED has created a 

Covid 19 summary guide

 to help small businesses quickly see which programs might be right for their situation.

Local Assistance

SBA works with a number of local partners to counsel, mentor, and train small businesses. The SBA has 68 District Offices, as well as support provided by its Resource Partners, such as SCORE offices, Women's Business Centers, Small Business Development Centers and Veterans Business Outreach Centers. When faced with a business need, use the SBA's Local Assistance Directory to locate the office nearest you.

Resources in the Twin Ports:

Women's Business Alliance North
Women's Business Center

202 W. Superior Street, Suite 311
Duluth, MN 55802
218-623-5741
Visit website

Northeast Minnesota SBDC
Small Business Development Center

11 East Superior Street, Suite 210
Duluth, MN 55802
218-726-7298
Visit website
Northeast Minnesota SBDC consultants are assisting clients throughout the COVID-19 outbreak. Connect with us to continue your projects or to get help with advice and ideas for how to keep your business as healthy as possible during these uncertain times. Contact your SBDC consultant by email or phone, direct your questions to info@nesbdc.org or visit www.nesbdc.org to sign up for consulting services. The American SBDC has a webpage with information and resources: https://americassbdc.org/coronavirus-information/

Wisconsin Small Business Development Center ~ UW S
Small Business Development Center

108 Erlanson Hall, 825 N 18th St
Superior, WI 54880

Free Financial Counseling

LSS Financial Counseling (part of Lutheran Social Service of MN) is available to local residents. We offer financial counseling services across the state, nation, and have an office in Duluth. We provide budget counseling, strategies to address debt, housing counseling, student loan repayment counseling and more. Speaking with one of our Certified Financial Counselors is free to everyone.

We all know that news about COVID-19 and its impact is changing all the time. The one thing that remains constant is our program's commitment to serve area residents with realistic financial guidance and strategies. Appointments are available by telephone and online appointments. Until further notice, face-to-face/in person office appointments in Duluth will not be available for the health and safety of those served, as well as employees.  Our Scheduling Team can be reached at 888.577.2227, Monday-Friday from 8am-5pm.  Residents may also reach out to us for financial counseling via online service on our website.

Health Insurance Counseling

Are you laid off? You could qualify for low-cost health insurance from the state of Minnesota. Free navigation assistance available! Call to discuss your options. MNsure Navigators help with applications, reporting changes, renewals, and more.

Lake Superior Community Health Center – (218) 722-9650
Community Action Duluth – (218) 726-1665
Generations Health Care Initiatives – (218) 336-5709
Chamber Advocacy
Chamber Advocates for Business Relief

November 24, 2020 – We understand this is a challenging time for our hospitality, fitness, and event/entertainment members. The Duluth Chamber is part of the Minnesota Ready Coalition, and has signed a letter appealing to Governor Walz for immediate assistance to those businesses most affected by Executive Order 20-99. A copy of the letter may be viewed here.

Duluth Stormwater Utility Fee Increase Delayed

On Monday, August 17, Chamber President David Ross distributed a letter to the Duluth Public Utilities Commission and the Duluth City Council regarding the proposed plan for increasing stormwater utility rates. Such a delay would allow the business community additional time to recover from COVID-19-related financial hardship before the proposed rate increases.

As a result of the Chamber's request, the Duluth Public Utilities Commission voted unanimously earlier this week in favor to delay the implementation of a stormwater utilities increase. A compromise was reached on the amount of time for the delay – six months – citing the importance of the rate increase for stormwater utilities, and while still recognizing the financial burden of COVID-19. The new rate will begin July 1, 2021.

Read more here: Duluth News Tribune 8/18/20

Bag Fee Delayed

The Chamber has championed to the Duluth City Council the motion to delay the pending plastic carry out bag fee, planned for implementation by April 1. Last night, city councilors voted on the motion. The vote was unanimous in support of delaying the ordinance until January 1, 2021. This delay alleviates grocers and other retailers whose immediate focus is on this global health and economic emergency.

Chamber Advocates for Child Care COVID-19 has impacted child care plans for many families and providers. Prior to the pandemic the child care shortage in Duluth was daunting and compromised our ability to attract and retain our workforce needs threatening the future economic stability of our business community. Child care providers are faced with enormous amounts of regulations and run razor thin margins forcing many to close their doors. Now, child care providers are considered essential workforce that are asked to keep their doors open while the rest of the community shelter in place. Their role is critical for providing medical workers children care while they combat the current coronavirus outbreak. These individuals were potentially exposing themselves and their staff to COVID-19 without additional financial assistance from the state or federal government.

The Chamber understands the importance quality child care is for our local families and the stability and support of these unsung heroes is our responsibility. We were proud to advocate alongside City Councilor, Arik Forsman, at the State level for robust emergency funding for these incredibly important essential workers during our current crisis and into the future.
Coronavirus Resources and Helpful Tips
Beware of Scams

We have received notice that scammers are attempting to gain sensitive information through false associations to available loans. If you have a question about someone contacting you, keep some things in mind:

Don't release any private information (especially Social Security numbers, credit card information, or banking information) in response to an unsolicited call, letter, or email.
Contact the Better Business Bureau (BBB) for more information on a company before you commit to anything.
Contact your state's Attorney General's office.
Do a reverse search of the phone number on the internet–you'll often find that several people have listed the number as belonging to scammers. Ask for the number if you don't have caller ID.

Here are some tips that should help.

Legitimate government entities will have websites and emails that end with .gov such as http://www.sba.gov.
Search "scam" or "scams" on http://www.sba.gov. You'll find many of the scams that we already know exist.
Report scams. Report to the BBB and to the Attorney General. If someone purports to be affiliated with the SBA, contact your SBA office.
Contact your SBA office if you're not sure how to apply for small business certification programs or have other questions pertaining to your small business.

What is COVID-19 (coronavirus)?

What are coronaviruses and COVID-19?

People at risk for serious illness from COVID-19

What Does the State of Emergency Mean?

On March 13, Governor Tim Walz declared a state of emergency for Minnesota. This action activates the Emergency Operations Center to help agencies coordinate from one location and makes it easier to purchase needed medical supplies, protect consumers from price gouging, and increase county health departments' access to state funds.

Equipping Your Office

Good hand hygiene tips and other common-sense precautions

World Health Organization videos

Supporting Your Staff

Do not let fear lead to social stigma

Protect your staff through work practice controls

OSHA recommendations for employees living abroad or traveling internationally

Advice for employers from Society for Human Resource Management

Ensuring Your Business Operations

Prepare for possible disruption

Identifying critical employees and ensuring that work-at-home systems

U.S. Chamber guidelines and webinar

Minnesota Department of Health strategies

OSHA guidelines maintain your business operations

Lead your business through the coronavirus crisis

8 strategies to set up remote work during the coronavirus outbreak

How brand managers should address COVID-19

Coronavirus could force teams to work remotely

Business planning for the COVID-19 Coronavirus

Additional Resources

World Health Organization Myth Busters
If you have any questions, concerns, or suggestions, please contact:
David Ross
President
Duluth Area Chamber of Commerce
218-740-3755
dross@duluthchamber.com