Updated: March 30, 2020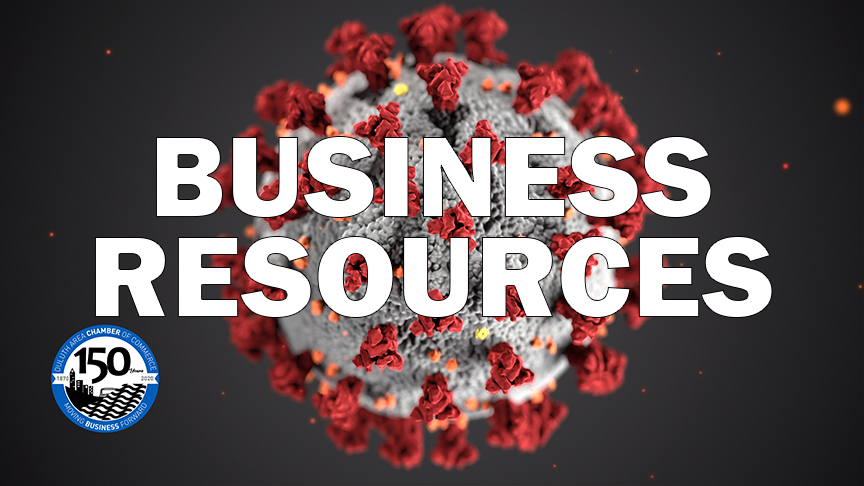 During times of uncertainty, our Chamber remains committed to providing your business resources to guide you. The well-being of our community and businesses is a priority. Following are articles, information, and tools you can share with your staff and use for your company. We will continue to update this list as we learn more.
→ How to Support Local Business
→ Coronavirus Resources + Helpful Tips
Loans and Funding
CARES Act Loans for Small Businesses

Congress has approved $350 billion in emergency loans for small businesses to help them keep workers employed. In fact, if small businesses maintain or later restore their payrolls, they may not have to repay some — or possibly any — of the loan. Here's a guide and checklist from the U.S. Chamber of Commerce to help your small business through the process.

Additional FAQs regarding business access to CARES Act loans can be found here..

Small Business Administration Disaster Loans

Minnesota small business owners are now eligible to apply for a U.S. SBA low-interest loan due to Coronavirus (COVID-19). The Disaster Loan Assistance program is for small businesses and most nonprofit organizations that have suffered directly by this disaster.

Apply here → https://disasterloan.sba.gov/ela/

If you need assistance with the application process, contact Northeast Small Business Development Center:
218-726-7298
info@nesbdc.org
or click "Sign Up for Services" at www.nesbdc.org.

SBA's Economic Injury Disaster Loans at: SBA.gov/Disaster.

SBA Tutorial: To help meet demand for training and assistance, and give you access to the materials 24/7, the SBA recorded a video tutorial. This video provides the same training but in a condensed form and with many of the questions we've been getting from small businesses answered in the content.

Our office is hosting twice daily training's to help answer questions and provide tips for applying.

Monday, 3/30/2020
1pm; Register, or 6 pm; Register

Tuesday, 3/31/2020
9am; Register, or 1 pm; Register

Wednesday, 4/1/2020
1 pm; Register, or 6 pm; Register

Thursday, 4/2/2020
1 pm; Register, or 6 pm; Register

Friday, 4/3/2020
9 am; Register, or 1 pm; Register

Can't make one of the calls above? To help meet demand, and give you access to the materials 24/7, we created this video.

DEED Small Business Emergency Loans

Another financial security option is now available to Minnesotan businesses. Minnesota Department of Employment and Economic Development (DEED) has established a loan program to assist small businesses affected by the COVID-19 pandemic. Small businesses are a vital part of Minnesota's economy and this program will provide a source of working capital to help businesses sustain operations during this challenging time. Locate details and application on the DEED website:

https://mn.gov/deed/business/financing-business/deed-programs/peacetime/?fbclid=IwAR09SEsrzstgA5jniVITk7ES2tD8F_EFIHs6A_v-c-XOjEZk0gLSHpVbCh8

Federal

On Thursday, the Legislature responded by approving $30 million in grants for child care centers and in-home providers as part of a larger spending package aimed at mitigating the economic and public health damage of coronavirus.

Under the bill, child care providers that are currently operating can apply for a $4,500 monthly grant. Providers are also eligible for an extra $1,000 if the program serves children who have special needs, don't speak English or if the service is open during nonstandard hours like nights and weekends. Larger child care centers that care for 15 or more children can get an additional monthly grant up to $15,500, based on capacity.

The Northland Foundation will award $1,000 to licensed family child care and $3,000 to licensed child care centers on a first-come, first-served basis for as long as funds are available. Northland has committed $50,000 for grants to child care providers in the region, and the other five foundations have contributed the same amount to grant within their respective rural regions.

More details and the short online application are available at https://www.surveymonkey.com/r/DR2BB77   Northland Foundation staff will provide a response and funding to qualified child care businesses within two weeks of receiving their application.

The COVID-19 Northeast Minnesota Response Fund will make grants to nonprofit organizations on the front lines of the COVID-19 response in Aitkin, Carlton, Cook, Itasca, Koochiching, Lake and St. Louis Counties. In particular, this fund will focus on nonprofits working with communities disproportionately impacted by COVID-19 and its consequences.

COVID-19 Northwest Wisconsin Response Fund

The COVID-19 Northwest Wisconsin Response Fund will make grants to nonprofit organizations doing similar work in Ashland, Bayfield and Douglas Counties.

The COVID-19 Nonprofit funds were created in collaboration with the Duluth Superior Area Community Foundation, Head of the Lakes United Way, the Lloyd K. Johnson Foundation, the Northland Foundation and the Ordean Foundation.

The Entrepreneur Fund has developed the Small Business Relief Fund to support businesses in our region hard hit by the Coronavirus pandemic. Funding will allow EF to provide financial grant assistance to business owners who are facing significant challenges but do not qualify for local, state or federal relief.
Unemployment Benefits
Shared Work Program to Avoid Layoffs

Shared Work is offered by the MN Unemployment Insurance (UI) Program to help employers avoid a layoff. The program allows employers to divide available hours of work among a group of employees instead of implementing a full layoff. These employees may then receive partial unemployment insurance benefits while working reduced hours.

The purpose of Shared Work is to avoid a layoff, not to subsidize wages. Shared Work can help employers avoid the difficulties that can go along with a layoff. If employees keep working during a temporary slowdown, employers can more quickly gear up when business conditions improve.

Learn more about the Shared Work Program on the Unemployment Insurance Division's website.

Unemployment Insurance

The Minnesota Department of Employment and Economic Development is encouraging people who've lost work because of the novel coronavirus to apply for unemployment benefits promptly.

DEED's Unemployment Insurance (UI) program assists workers who can't work, have their hours reduced or lose their jobs as a result of the pandemic. The UI program is prepared and ready to assist these workers. If you are unemployed or have your hours reduced, you may apply for unemployment benefits by visiting www.uimn.org.

Families First Coronavirus Response Act

The U.S. Department of Labor's Wage and Hour Division (WHD) published its first round of implementation guidance pursuant to the Families First Coronavirus Response Act (FFCRA).The guidance addresses critical questions such as:

How does an employer count its number of employees to determine coverage?
How can small businesses obtain an exemption?
How does an employer count hours for part-time employees?
How does an employer calculate wages employees are entitled to under the FFCRA?

The initial WHD guidance is available in three-parts:
Education and Counseling
Local Assistance

SBA works with a number of local partners to counsel, mentor, and train small businesses. The SBA has 68 District Offices, as well as support provided by its Resource Partners, such as SCORE offices, Women's Business Centers, Small Business Development Centers and Veterans Business Outreach Centers. When faced with a business need, use the SBA's Local Assistance Directory to locate the office nearest you.

Resources in the Twin Ports:

Women's Business Alliance North
Women's Business Center

202 W. Superior Street, Suite 311
Duluth, MN 55802
218-623-5741
Visit website

Northeast Minnesota SBDC
Small Business Development Center

11 East Superior Street, Suite 210
Duluth, MN 55802
218-726-7298
Visit website
Northeast Minnesota SBDC consultants are assisting clients throughout the COVID-19 outbreak. Connect with us to continue your projects or to get help with advice and ideas for how to keep your business as healthy as possible during these uncertain times. Contact your SBDC consultant by email or phone, direct your questions to info@nesbdc.org or visit www.nesbdc.org to sign up for consulting services. The American SBDC has a webpage with information and resources: https://americassbdc.org/coronavirus-information/

Wisconsin Small Business Development Center ~ UW S
Small Business Development Center

108 Erlanson Hall, 825 N 18th St
Superior, WI 54880

Free Financial Counseling

LSS Financial Counseling (part of Lutheran Social Service of MN) is available to local residents. We offer financial counseling services across the state, nation, and have an office in Duluth. We provide budget counseling, strategies to address debt, housing counseling, student loan repayment counseling and more. Speaking with one of our Certified Financial Counselors is free to everyone.

We all know that news about COVID-19 and its impact is changing all the time. The one thing that remains constant is our program's commitment to serve area residents with realistic financial guidance and strategies. Appointments are available by telephone and online appointments. Until further notice, face-to-face/in person office appointments in Duluth will not be available for the health and safety of those served, as well as employees.  Our Scheduling Team can be reached at 888.577.2227, Monday-Friday from 8am-5pm.  Residents may also reach out to us for financial counseling via online service on our website.

Health Insurance Counseling

Are you laid off? You could qualify for low-cost health insurance from the state of Minnesota. Free navigation assistance available! Call to discuss your options. MNsure Navigators help with applications, reporting changes, renewals, and more.

Lake Superior Community Health Center – (218) 722-9650
Community Action Duluth – (218) 726-1665
Generations Health Care Initiatives – (218) 336-5709
Community Updates
Business Impact Survey

APEX is collecting data with a business impact survey. Numbers are critically important to tell the collective story of the COVID-19 virus impact on our local business community. Our numbers help detail the reality for decision makers. This survey will take about 10 minutes to complete. Your responses are absolutely confidential. Responses will only be reported in aggregate.

The aggregate results of this survey will be used to inform local and state elected officials, government agencies, and others of the economic and human impact of the COVID-19 virus to our region. This survey is part of a national effort by local economic development organizations and chambers of commerce. It will be conducted several times as things are changing quickly.

If you ask for help at the end of the survey, members of the APEX staff will reach out to you personally as soon as possible. Please follow the link to complete the survey.

Blood Drive

Blood donations are needed as donations have declined amid the pandemic. Due to COVID-19, over 8,000 blood drives nationally have been cancelled, resulting in over 200,000 less blood donations. The American Red Cross – Northland Chapter is hosting a blood drive on Tuesday, March 31. Additional precautions will ensure the safety of donors and staff in response to concern, including:

Scheduling appointments to manage number of people coming in and out at a given time
Checking the temperature of staff and donors before entering a drive
Providing hand sanitizer for use before the drive, as well as throughout the donation process
Spacing beds, where possible, to follow social distancing practices between blood donors, and
Increasing enhanced disinfecting of surfaces and equipment.

Tuesday, March 31 at 2524 Maple Grove Road. Visit www.redcrossblood.org to sign up.

Extension for February Deadline for Tourism Tax Returns

In coordination with the State of MN announcement extending the due date for February sales tax returns filed with the State due to the COVID-19 pandemic, the City of Duluth will be extending the due date of February tourism tax returns that are due March 20th until April 20th.

Tourism Tax returns for the month of February must be filed no later than April 20th. Penalties and interest will not be charged if the February tourism tax returns are filed and paid by April 20th. Returns that have already been filed will not be refunded. Additional instructions regarding this announcement can be found on the City's website at http://www.duluthmn.gov/Finance. Monies received by the City from tourism tax returns are used by the City to support our tourism industry partners.

Bag Fee Delayed
The Chamber has championed to the Duluth City Council the motion to delay the pending plastic carry out bag fee, planned for implementation by April 1. Last night, city councilors voted on the motion. The vote was unanimous in support of delaying the ordinance until January 1, 2021. This delay alleviates grocers and other retailers whose immediate focus is on this global health and economic emergency.

Safety + Security

Chamber President David Ross has been in contact with Duluth Police Chief Mike Tusken. We have encouraged DPD to utilize our chamber as a resource for safety communications that need disseminating to the business community. Conversations are taking place regarding the security of your business in the event of a stay in place order. Be assured, we will notify you with safety messages as they are received.

Petition for To-Go Alcohol Sales

Without on-premise dining, the restaurant industry has no on-premise alcohol sales to generate much-needed income, says a news release on change.org.

The group has launched a petition to persuade the state of Minnesota to allow any on-premise licensee to sell closed containers for off-premise consumption, any alcoholic beverages that it is able to sell for on-premise consumption under the law.

For example, if a customer is placing a to-go order from an establishment that sells wine and beer, they would be able to purchase wine and beer to-go. The New York State Liquor Authority has already implemented action to protect its beverage industry, and we are urging Minnesota to follow suit. The petition can be found here.
Coronavirus Resources and Helpful Tips
Beware of Scams

We have received notice that scammers are attempting to gain sensitive information through false associations to available loans. If you have a question about someone contacting you, keep some things in mind:

Don't release any private information (especially Social Security numbers, credit card information, or banking information) in response to an unsolicited call, letter, or email.
Contact the Better Business Bureau (BBB) for more information on a company before you commit to anything.
Contact your state's Attorney General's office.
Do a reverse search of the phone number on the internet–you'll often find that several people have listed the number as belonging to scammers. Ask for the number if you don't have caller ID.

Here are some tips that should help.

Legitimate government entities will have websites and emails that end with .gov such as http://www.sba.gov.
Search "scam" or "scams" on http://www.sba.gov. You'll find many of the scams that we already know exist.
Report scams. Report to the BBB and to the Attorney General. If someone purports to be affiliated with the SBA, contact your SBA office.
Contact your SBA office if you're not sure how to apply for small business certification programs or have other questions pertaining to your small business.

What is COVID-19 (coronavirus)?

What are coronaviruses and COVID-19?

People at risk for serious illness from COVID-19

What Does the State of Emergency Mean?

On March 13, Governor Tim Walz declared a state of emergency for Minnesota. This action activates the Emergency Operations Center to help agencies coordinate from one location and makes it easier to purchase needed medical supplies, protect consumers from price gouging, and increase county health departments' access to state funds.

Equipping Your Office

Good hand hygiene tips and other common-sense precautions

World Health Organization videos

Supporting Your Staff

Do not let fear lead to social stigma

Protect your staff through work practice controls

OSHA recommendations for employees living abroad or traveling internationally

Advice for employers from Society for Human Resource Management

Ensuring Your Business Operations

Prepare for possible disruption

Identifying critical employees and ensuring that work-at-home systems

U.S. Chamber guidelines and webinar

Minnesota Department of Health strategies

OSHA guidelines maintain your business operations

Lead your business through the coronavirus crisis

8 strategies to set up remote work during the coronavirus outbreak

How brand managers should address COVID-19

Coronavirus could force teams to work remotely

Business planning for the COVID-19 Coronavirus

Additional Resources

World Health Organization Myth Busters

CDC's Guidance for Businesses and Employers
COVID-19 Communication Archive
If you have any questions, concerns, or suggestions, please contact:
David Ross
President
Duluth Area Chamber of Commerce
218-740-3755
dross@duluthchamber.com