Chamber Hires Jebeh Edmunds to Lead Leadership Duluth
The Duluth Area Chamber of Commerce is pleased to announce the hiring of Mrs. Jebeh Edmunds to oversee the Chamber's Leadership Duluth program. Jebeh brings an impressive slate of talent, expertise, and experience to the program.
Jebeh Edmunds is the founder and CEO of Jebeh Cultural Consulting LLC. Jebeh has decades of experience training organizations and people to develop effective strategies in the field of Diversity, Equity, Inclusion & Belonging. Before starting her business, Jebeh was an eighteen-year educator with the Duluth Public Schools and an Adjunct Professor at The College of St. Scholastica. Additionally, she was a 2022 Goldfine Gold Star Teacher nominee. Jebeh has a bachelor's degree in communication from the University of Minnesota Duluth, a post-bachelor's teaching certificate from the College of St. Scholastica, and a Master of Science degree in teaching from the College of St. Scholastica. She is a proud first-generation Liberian American immigrant and with her husband Andy, is the mother of two boys, Maxwell and Mateo.
Developed by the Duluth Area Chamber of Commerce, Leadership Duluth is a comprehensive leadership training program. Leadership Duluth educates participants about Duluth's cultural and business history, as well as the current issues facing the Duluth area. The program focuses on the elements necessary to develop leaders who are invested in our community. In its 34 years, more than 1,300 area professionals have completed the Duluth Chamber's Leadership Duluth program.
In her new role, Jebeh will provide oversight of the Chamber's Leadership Duluth program and work collaboratively with Chamber Leadership to evaluate the curriculum and ensure the program continues its longstanding tradition of excellence.
"We are thrilled to add Jebeh Edmunds to our talented team to oversee our Leadership Duluth program" said Duluth Area Chamber President Matt Baumgartner. "She brings years of valuable experience in education and training, including several years of experience specifically developing and evaluating curriculum. Leadership Duluth is an invaluable program for our Chamber and for our community; Jebeh is the ideal person to breathe new life into the program and ensure it continues to evolve and meet the needs and high expectations of all who participate. We are very excited about the future of Leadership Duluth."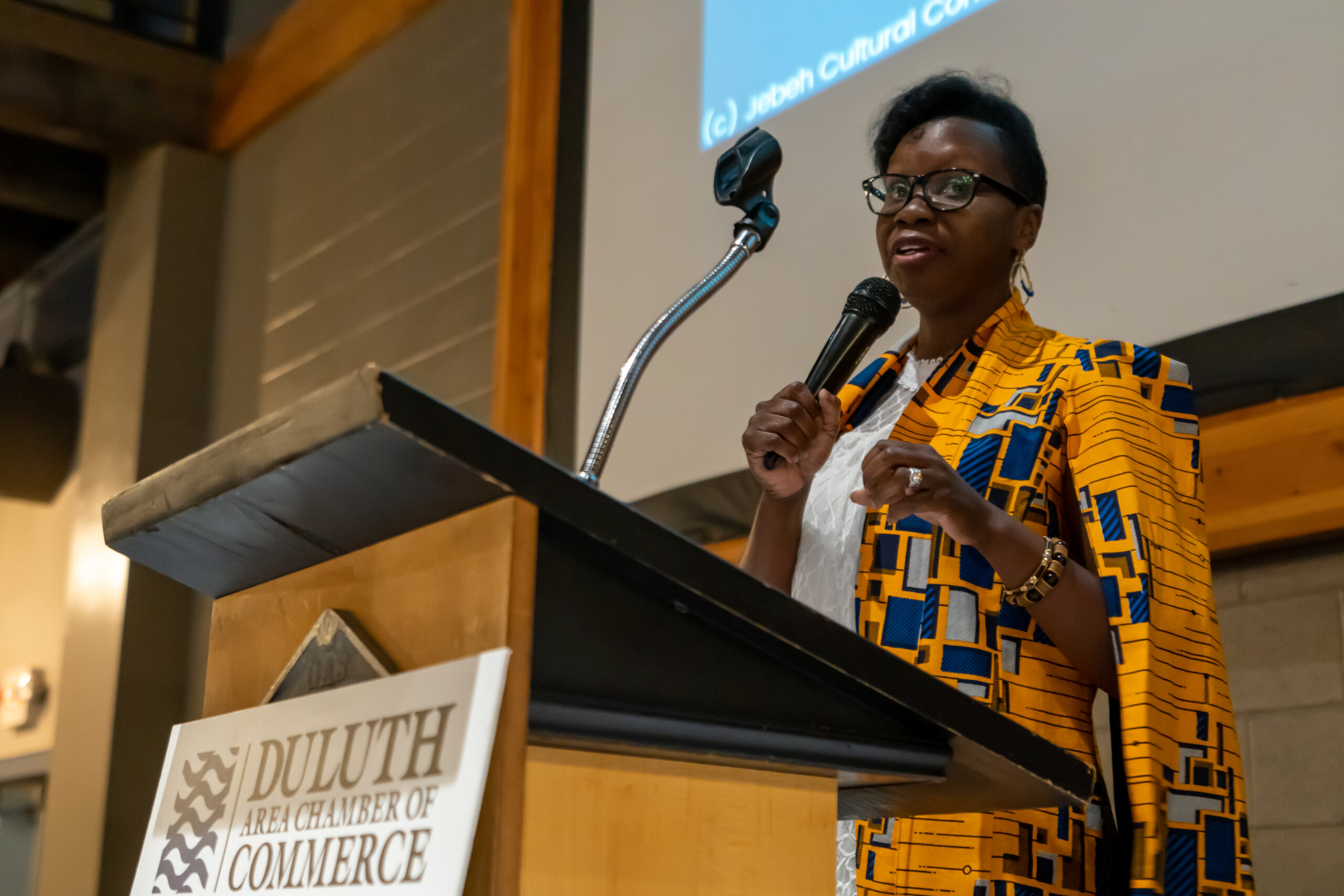 Jebeh Edmunds presents at the Chamber's Let's Connect @ Clyde event in July 2022
The Duluth Area Chamber of Commerce serves as the premier advocate for commerce and industry by facilitating interaction among business, government, education, labor, and the greater community by actively creating innovative opportunities for business to advance within local and global economies and encourages fairness in the political process by serving to help educate our members rather than endorsing or supporting political parties or affiliations.
You may also be interested in:
Leah Kohlts
View recordings of the 2023 Candidate Forums, courtesy of the Duluth News Tribune: Duluth School Board District 3 (Henry Banks, Loren Martell) and At-Large (Allana Oswald, Stephanie Williams) Duluth Mayor (Roger Reinert, Emily Larson)
Leah Kohlts
The Powering Inclusion Summit, hosted by the Center for Economic Inclusion, is a powerful day featuring hundreds of the leading changemakers who are building wealth and opportunity in housing, economic development, business growth, and more
Chris Johnson
For more than three decades, Leadership Duluth has been educating and empowering Duluth area leaders to take an active role in the betterment of their community and workplaces.  Join us in congratulating the Leadership