Bridging the Gap: New Educational Series for Business and Community Improvement
While planning the 2021 calendars last fall, we recognized the need for a platform to discuss topics not often associated with traditional business development. To fill this gap, the Duluth Area Chamber of Commerce has launched a new educational series for the 2021 calendar. We are delighted to introduce our newest educational offerings:
The Business and Community Alliance Series

The Business and Community Alliance Series is a collection of trainings that aim to reinforce the connection between business growth with community initiatives, issues, and services. These workshops will demonstrate how businesses can utilize their platform, workforce, and philanthropic values to improve the greater community.
Six sessions are planned for the 2021 year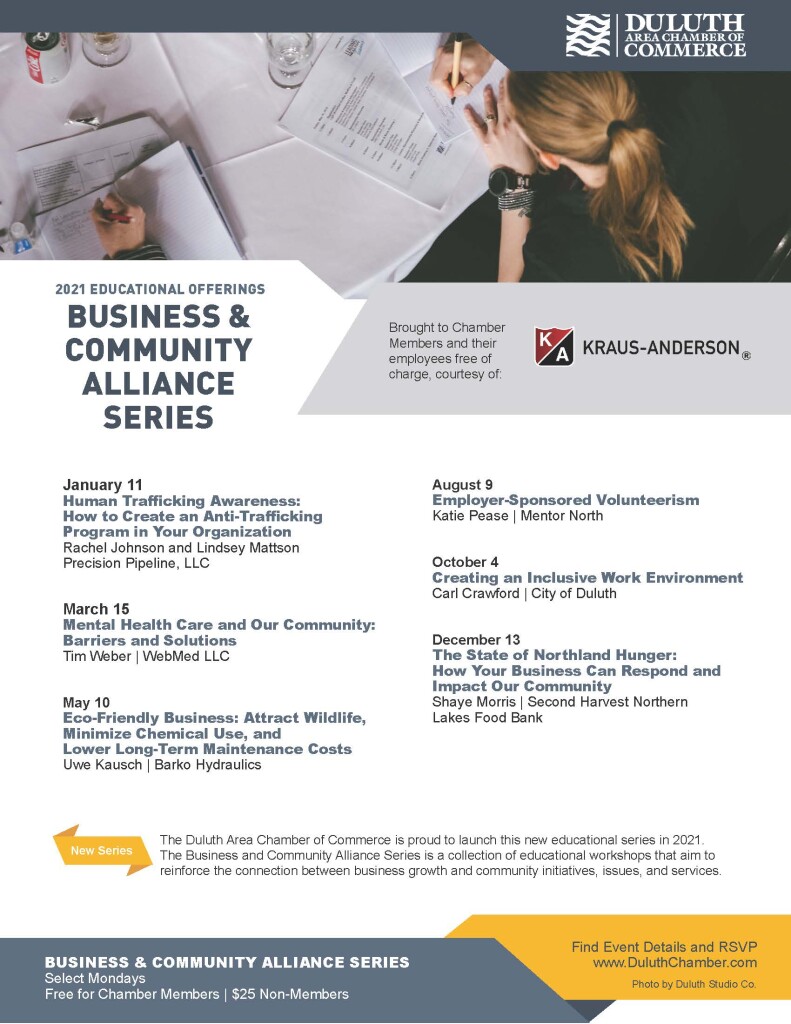 Monday, January 11
Human Trafficking Awareness: How to Create an Anti-Trafficking Program in Your Organization
Presented by Rachel Johnson and Lindsey Mattson | Precision Pipeline, LLC
Monday, March 15
Mental Health Care and Our Community: Barriers and Solutions
Presented by Tim Weber | WebMed LLC
Monday, May 10
Eco-Friendly Business: Attract Wildlife, Minimize Chemical Use, and Lower Long-Term Maintenance Costs
Presented by Uwe Kausch | Barko Hydraulics
Monday, August 9
Employer-Sponsored Volunteerism
Katie Pease | Mentor North
Monday, October 4
Creating an Inclusive Work Environment
Carl Crawford | City of Duluth
Monday, December 13
The State of Northland Hunger: How Your Business Can Respond and Impact Our Community
Presented by Shaye Morris | Second Harvest Northern Lakes Food Bank

The 2021 Business & Community Alliance Series is sponsored by Kraus-Anderson Construction Co. Each workshop is one hour and will be held virtually until in-person gatherings may resume. These are free to attend for Chamber members and their employees (thank you, Kraus-Anderson!), and only $25 for non-members.
To register for one of these upcoming workshops, click here.
Download the full 2021 B&CAS calendar here.
We hope to see you there!