Leap of Kindness Day: Duluth Donation Drives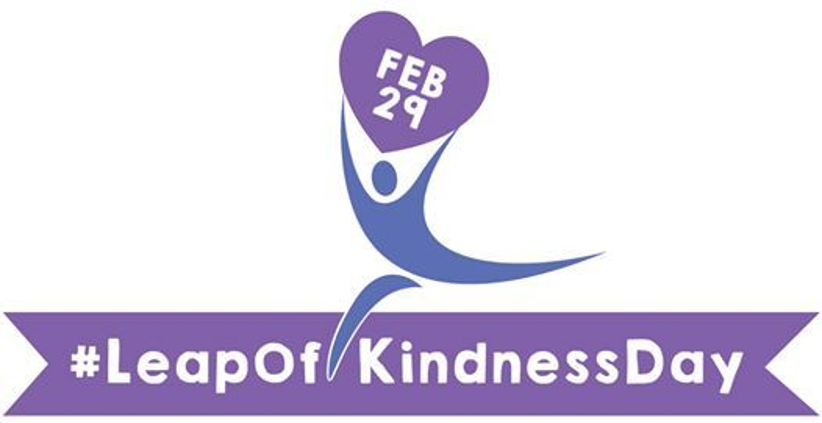 What will you do with your extra day?
Leap Year occurs every four years. With one extra day in 2020, the Duluth Area Chamber of Commerce encourages you to leverage the day to do something kind for someone else. Leap of Kindness Day is Saturday, February 29, 2020. Make your day count.
To help you participate, we reached out to local nonprofits around the Twin Ports for ideas. Here is what our local nonprofits are requesting:
Northern Lights Foundation is collecting items for our live and silent auction for our annual fundraising gala – 2020 Children's Charity Gala on May 21, 2020. Our mission is to give financial support to families with a child facing a life-threatening illness. At a time when nothing else matters but taking care of your sick child, we give support to pay the bills, stay in a hotel near the hospital, get gas in their car, etc. All unrestricted grants stay local as we give to applicants within a 100-mile radius of the Duluth, MN area. Donations may be mailed to PO BOX 15190.

CHUM is seeking donations of oatmeal and cereal for its food shelf. Family-sized instant, 3 minute, or old-fashioned oatmeal and all cold cereals are appreciated. Donations may be delivered to 102 W. Second Street, 9:00 – 4:30.

American Red Cross serving Northern Minnesota is collecting gift cards to supplement Red Cross assistance to families impacted by home fires. Gift cards to places like Target, Walmart, Super One and Petco; as well as local restaurants are appreciated. The Red Cross Chapter based in Duluth responds to over 120 home fires each year, providing emotional support, disaster health and mental health assistance and providing financial support to help families get back to work and school and giving the family a safe place to stay while they begin their recovery. These gift cards would be able to provide critical additional support for cold-weather clothing, clothes needed for work and basic needs for family pets.  Donations may be delivered or mailed to American Red Cross 2524 Maple Grove Rd Duluth, MN 55811 Open Monday-Thursday from 8-4:30, Friday from 8-4.

Music Resource Center (a program of the Duluth Armory Arts & Music Center) is collecting donations of new or used Apple computers. We've recently deduced that two of our current Apple iMac computers are outside of the window of support offered by Apple, so we're not able to update them any longer. This poses potential security issues. We'd be thrilled with a donation of this type of computer that is 0-5 years old, as it would allow us to once again have secure computing with current software for our students to make music on. Alternately, donation of a Best Buy or Target gift card would also be welcome, as we could then purchase the items ourselves. Donations may be mailed to Armory Arts & Music Center 1626 London Road, #779 Duluth, MN 55812 ​ or call Mark at: (218) 428-9686.

New Hope FOR Families is requesting both financial and item donations for facility renovations and technology including: Carpet and kitchen flooring, elevator and installation, bathroom fixtures, computers, and playground equipment. Our Fellowship Hall needs new carpet; Children often need to do schooling online when in our foster homes- thus the need for laptops; bathrooms in our community center will need updated fixtures and we may be adding a bathroom or two; Our greenspace has no swing set or climbing structure for our foster children to play on. Donations may be mailed or delivered to 1028 – East 8th street, Duluth, MN 55803 between noon-5pm M-F.

Damiano Center is collecting donations of clothing, household goods, and hygiene items for individuals in need. Clothing (especially men's clothing). Household goods such as plates, silverware, pots & pans. Small kitchen appliances such as microwaves, coffee pots, and crock pots. Hygiene items such as deodorant, shampoo & conditioner, body wash, diapers. Items may be delivered to 206 W 4th St Duluth MN 55806, Drop off hours Monday, Tuesday, Wednesday, Friday 9am-3pm Saturday 10am-2pm Each day except Thursdays and Sundays.

Lake Superior Youth Chorus is seeking financial donations to launch a new choir for changing or changed voices. Many singers choose to leave choir at this time because they don't know how to navigate their instruments through this very vulnerable development. The objective of this choir is to give emerging tenors and basses a safe place to continue singing. Our choirs are offered to singers through grade 10, but many of our singers begin to emerge as tenors or basses much earlier than that. This new choir will now offer a place in an LSYC choir for anyone that wishes to sing through grade 10. Contributions may be mailed or delivered to 1100 E Superior Street (#304) Duluth, MN 55802, Monday-Thursday, 8:00 – 4:00.

Life House is collecting donations of basic need items for the Youth Center. Items include Full size bottles of shampoo and conditioner; Baby wipes; Diapers size 5 and 6; Deodorant; Full size toothpaste and toothbrushes. Donations may be dropped off between the hours 10:00 a.m. and 5:00 p.m. at 102 W 1st Street, Duluth, MN 55802.

Circle of Hope is collecting donations of feel-good items for patients battling breast cancer and ovarian cancer. Items include basic needs like slippers, socks, gas cards, restaurant cards, grocery cards, fleece blankets for younger survivors, and chemo caps. Please arrange donations by calling 218-464-1626.

Duluth Area Family YMCA Camp Miller is accepting new or used in good condition sleeping bags, travel sized toiletries, beach towels, and backpacks. Donations may be delivered to 302 West 1st Street (Duluth Area Family YMCA) open from 5 a.m. -10 p.m. M-F and 10-2 Saturday and Sunday.

STARBASE Minnesota Duluth is collecting donations of supplies for 5th grade students for hands-on STEM education program. Items include 2 first aid kits, flash drives (any quantity), card stock (any quantity), copy paper (any quantity), large boxes of Alka-Seltzer (20), paper towels (any quantity), foil (any quantity), blue painters or masking tape (any quantity), hand sanitizer, Clorox wipes, Kleenex (any quantity), 2 heavy-duty vacuums, 14 merge cubes, 60 wired computer mice (new), white PVC pipe (multiple). Please call Charity to arrange a donation pick up: 218-788-7288.

Duluth Children's Museum seeks new and gently used books appropriate for children from birth-3rd grade for our Big Red Bookshelf. Children are invited to take a book home to keep and share! Book donations may be brought to Duluth Children's Museum 115 S 29th Ave W Duluth, MN 55806 Tuesdays-Saturdays 10am-5pm Sundays 12pm-5pm.

A+ Game is seeking technology resources and training equipment for our youth, plus items to raffle off. Items include 6-8 iPads; Video game systems, W/accessories 8-Playstation4/Xbox1 system; Basketballs(10); basketball shoes (22 pairs sizes 8-12); Resistance bands(10); Medicine Balls (5) ; Catering services for events; 2 vehicles worth $5000 or more each & gift cards to be raffled off at our events. We have sponsorship opportunities as well for organizations interested in helping out more, along with being open to suggestions for other donations. Donations may be mailed or brought to 201 E. 1st street.

Community Action Duluth is collecting donations of: Bike supplies: Bikes in fixable condition. Locks and helmets in good and safe condition. Vehicles: must be safe to drive. Contact Susie directly. (Susie@communityactionduluth.org or 218-726-1665 ext. 221). If you have a mini van in good condition, contact Evan directly. (Evan@communityactionduluth.org or 218-726-1665 ext. 222) Cooler: no more than 2 please. Table cloths: roughly 30″x60″, no more than 2 please. small baskets/wire containers: no more than 5 please. poker chip case. Coffee percolator: serving at least 25 people. 3 ring binders: no more than 20 please. Dishes: bowls, plats, and mugs in good condition. No more than 10 of each please. Donations may be delivered or mailed to 2424 W 5th St Duluth, MN 55806 M-F 8:30-4:30.

The Hills Youth and Family Services is collecting items for youth: Backpacks– for males and females. Hygiene items– toothpaste, toothbrush, deodorant, hair combs/brush, soap, razors. And reusable water bottles. Donations may be dropped off to 8AM-4:30PM 4321 Allendale Ave Duluth.

First Witness Child Advocacy Center is seeking donations of office supplies – Paper, pens, toilet paper, paper towels. Items may be delivered to 4 West 5th Street 8:30-4:30.

Lutheran Social Service of Minnesota – Duluth Youth and Family Services is currently in need of personal care items for young people and families in our community. Within our youth and family serving programs, we meet participants where they are and walk with them to inspire hope, change lives and build community. Items include: Daily Bus Passes, Baby Formula, Wipes, Grocery Gift Cards to Super One, Blankets, Pillows, Large bath towels, Small bath towels, Toilet brushes, Toilet plungers, Towels, Broom, Dust pan, Small waste basket, Large waste basket, Pots/pans, Small dish set, Small set of drinking glasses, Cooking utensils, Deodorant, Toothpaste, Tooth brushes, Shampoo/Conditioner,  Soap, and Body Wash. Donations may be brought to The Center for Changing Lives 1422 E Superior Street, Duluth, MN 55805. Please drop off M-F 8:30am-4pm.

Goodwill Industries Vocational Enterprises is seeking donations of clothing, purses, shoes, furniture, and other household items. Goodwill's mission is to provide employment and employment services to people with disabilities or other barriers to employment. Please note donated goods that are broken, excessively worn, unsafe or simply unsalable are of no value to Goodwill, and we incur costs for their disposal. Items may be brought to 700 Garfield Avenue, Duluth, MN 55802 9 am- 7 pm.

Program for Aid to Victims of Sexual Assault (PAVSA) is collecting donations for our art therapy group. Items include flour, balloons, canvases, small jars with lids, vegetable oil, food coloring, contact solution, and aprons. PAVSA's art group is held every Wednesday from 2:00-4:00pm Anyone who has been affected by sexual violence is welcome to attend art therapy group. The group is free and all materials are provided for clients. These items would be used to create mindfulness projects such as DIY lava lamps, stress balls, slime and other related art projects. Donations may be brought to 32 E 1st Street, Suite 200, Duluth, MN 55802, M-F 8:30am-4:30pm, office is closed from 12:00-1:00pm for lunch daily.

Star of the North Maternity Home is collecting donations to help with their mission to provide a loving and stable Christian family-like supportive housing available for four homeless pregnant mothers and their babies with the focus of moving them to self-sufficiency. Items include: Gift cards to Walmart, Target, Walgreens, grocery stores, gas stations, Super One; Amazon Dressers and Changing Tables; Gently used Maternity Clothes; Household items including paper towels, Dreft & laundry detergent, dryer sheets, dish soap (for hand washing and dishwasher), liquid hand soap, toilet paper and batteries. Donations may be purchased directly from this wishlist on Amazon: https://www.amazon.com/hz/wishlist/ls/38QRAOA5A9EGO?ref_=wl_share
The sky is the limit. Contribute a donation of food, clothing or money to an organization above – or beyond. Bring flowers or a cake or send a thank you note, email or text to someone special in your life. Invite a friend, your family, coworkers or neighbors out to a local restaurant and leave a big tip. Clean up your neighborhood or a local park. Volunteer at a local organization.
No matter the size of donation or gesture, kindness makes an impact. We invite you to share your Leap of Kindness Day with us by tagging #DuluthChamber, or by emailing your initiative to cjohnson@duluthchamber.com.
"A single act of kindness
throws out roots in all directions,
and the roots spring up and make new trees."
– Amelia Earhart
This Saturday, take a leap of kindness and make February 29, 2020 count.