Leadership Duluth Class of 2023
For more than three decades, Leadership Duluth has been educating and empowering Duluth area leaders to take an active role in the betterment of their community and workplaces.  Join us in congratulating the Leadership Duluth Class of 2023.
2023 Leadership Duluth Graduation Celebration
The Duluth Area Chamber of Commerce, Duluth Area Chamber Foundation, along with volunteers from the LD Steering Committee, hosted the commencement to recognize the hard work accomplished throughout the ten-month program by the 55 graduates.
2023 Service Projects
Throughout the year participants examined core leadership competencies, learned about Duluth's cultural and business history, and discussed current issues facing the region. In addition, class members were tasked with organizing and completing one service project to benefit a local nonprofit. The project allows for demonstration of new leadership competencies developed throughout the program and reflection upon the contributions they make in our community.
In total, twelve Service Projects were completed by this year's participants:
Twin Ports Gymnastics Fundraiser
Jarrid Houston, Lisa Thomas & Emily James
Personal Hygiene Kits for the Damiano Center
Tiffany Bourassa, Al Bastien, Charlene Aaseng, Casey Nies, Crystal Kirchner & Jen Kolquist
Northland Families Supporting Life House
Chris Armstrong, Dori Decker, Paige Doty, Elsie Storm, Cassie Ernest, Matt McConico & Megan Matson
Laundry Love
Aili Ratike, Becca Bohlman, Emily Ranta, Hannah Grunzke, Janice Solberg, Katie Lassi, Spencer Johnson, Tiffany Tomassoni & Whitney Sundquist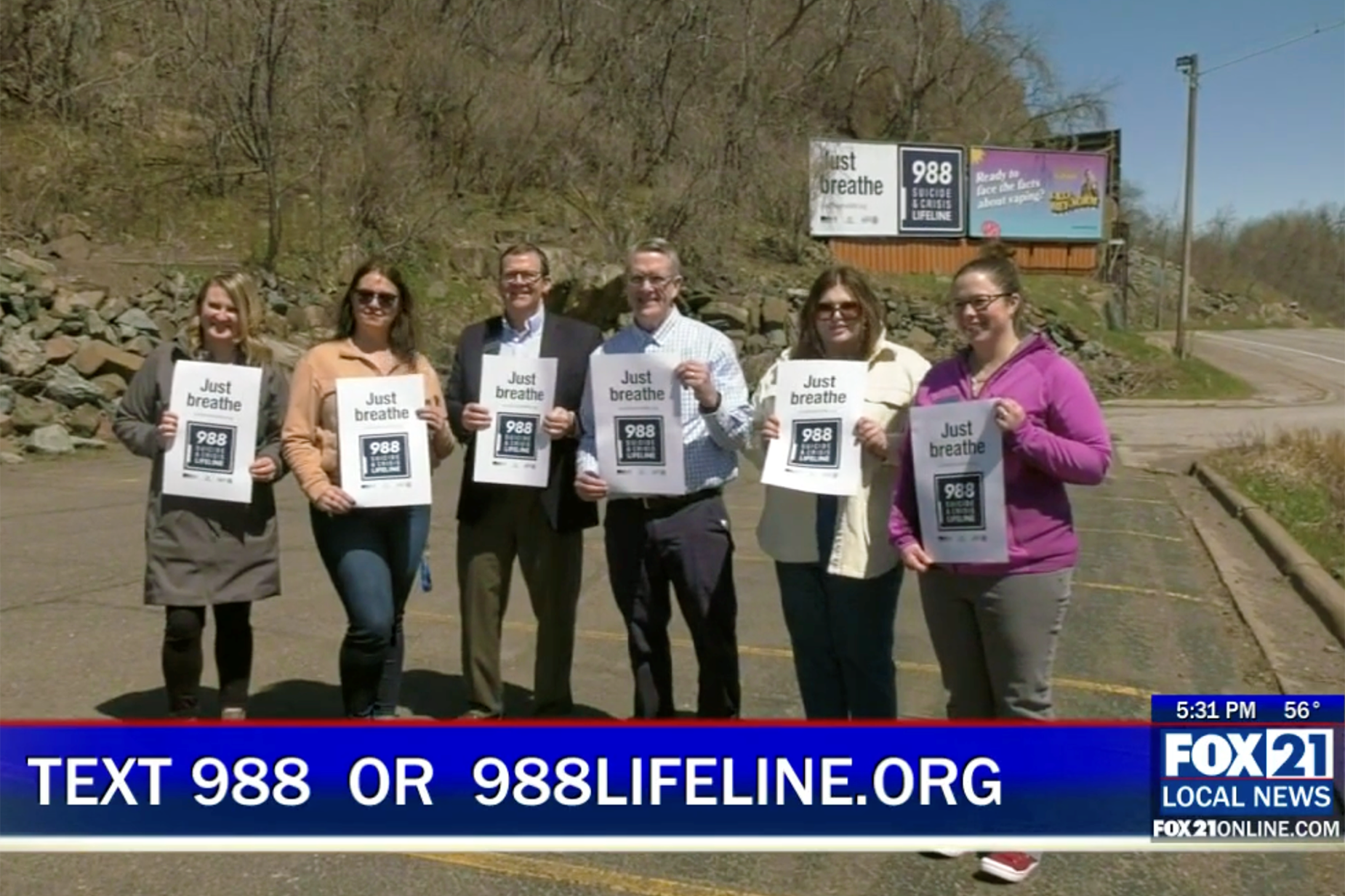 Just Breathe 988 Awareness Campaign
Jerry Thoreson & Bret Reuter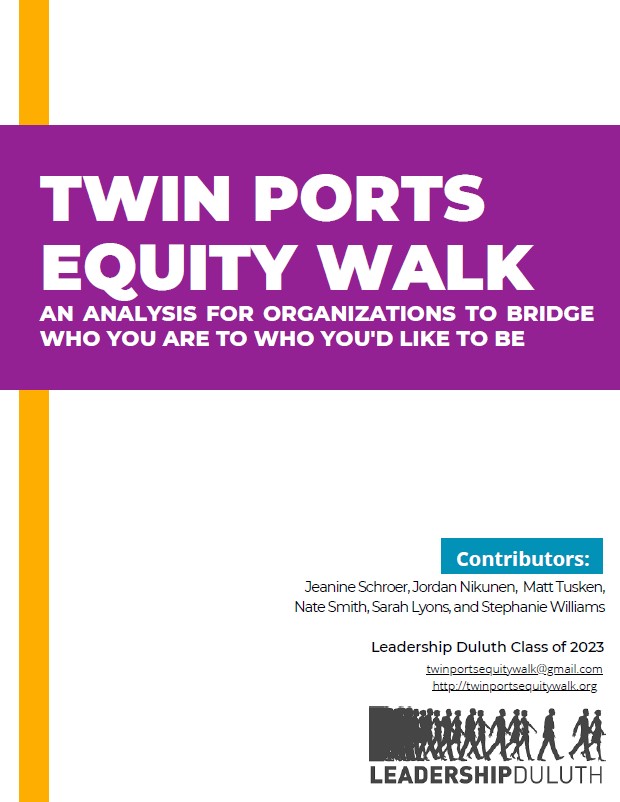 Twin Ports Equity Walk
Jeanine Weekes Schroer, Jordan Nikunen, Matt Tusken, Nate Smith, Sarah Lyons & Stephanie Williams
Ready Set Ride
David Humes, Troy Abfalter, Hunter Bergerson, Scott Wishart & Todd Mell
Color the Streets
William Beyer, Aaron Fisher, Asa Harting, Dennis Johnson, Tad Johnson, Nicole Opland & Katie Rohner
Adopt a Family
Bobbie Nielsen & Cory Kujawa
Red Cross Care Kits for Veterans
Ryan Johnson & Brett Hiemenz
Drop-in Youth Center at Life House
Nick Campanario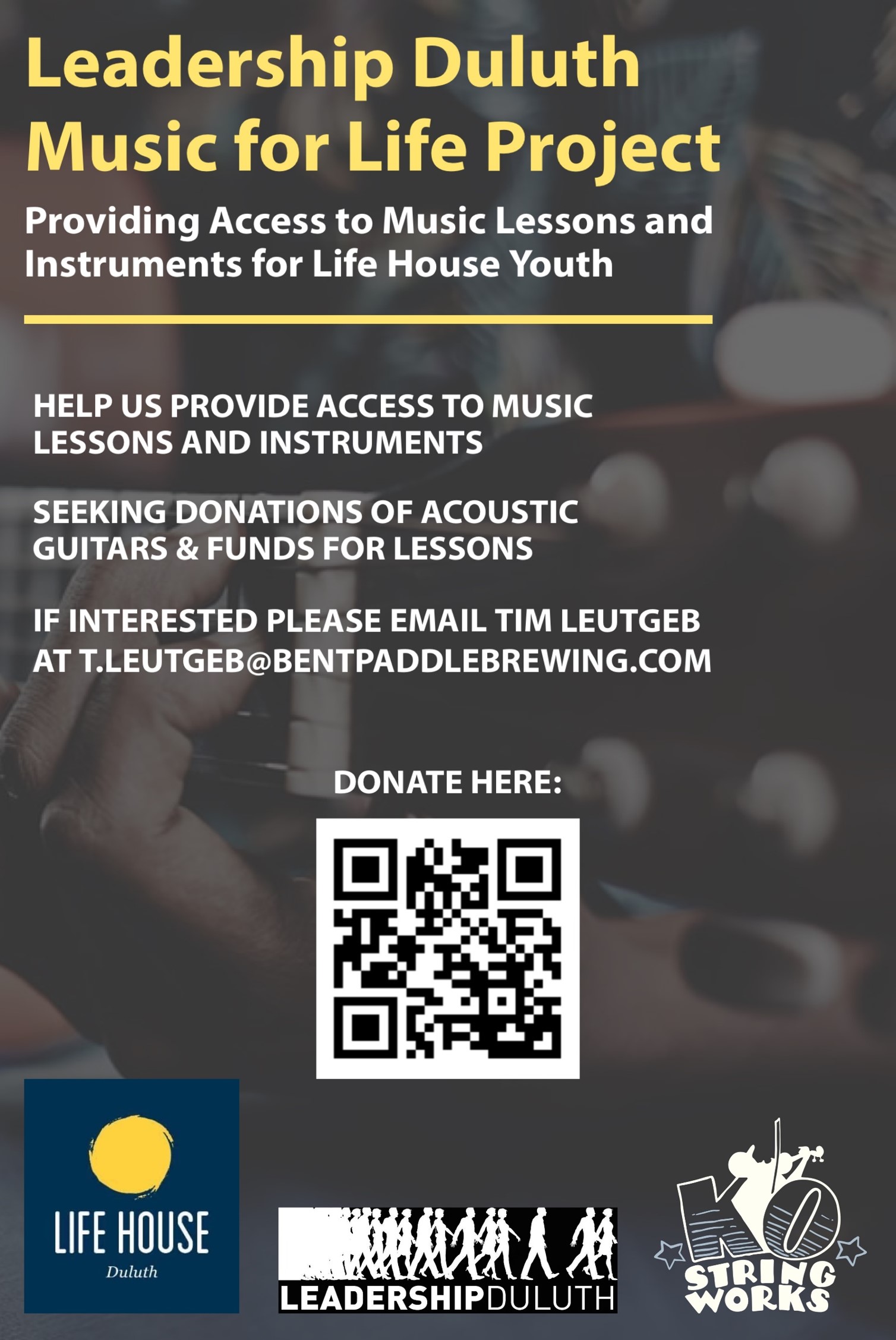 Music for Life
Tim Leutgeb, Dustin Heckman, & Tracy Chaplin
In its 35 years, more than 1,500 area professionals have completed the Leadership Duluth program.
Developed by the Duluth Area Chamber of Commerce, Leadership Duluth is a comprehensive leadership training program.  Leadership Duluth educates participants about Duluth's cultural and business history, as well as the current issues facing the Duluth area.  The program focuses on the elements necessary to develop leaders who are invested in community health.  As a result of completing Leadership Duluth, graduates exercise new critical thinking skills that bring heightened value to their workplace and become active community leaders.
Congratulations to the 2023 Leadership Duluth graduates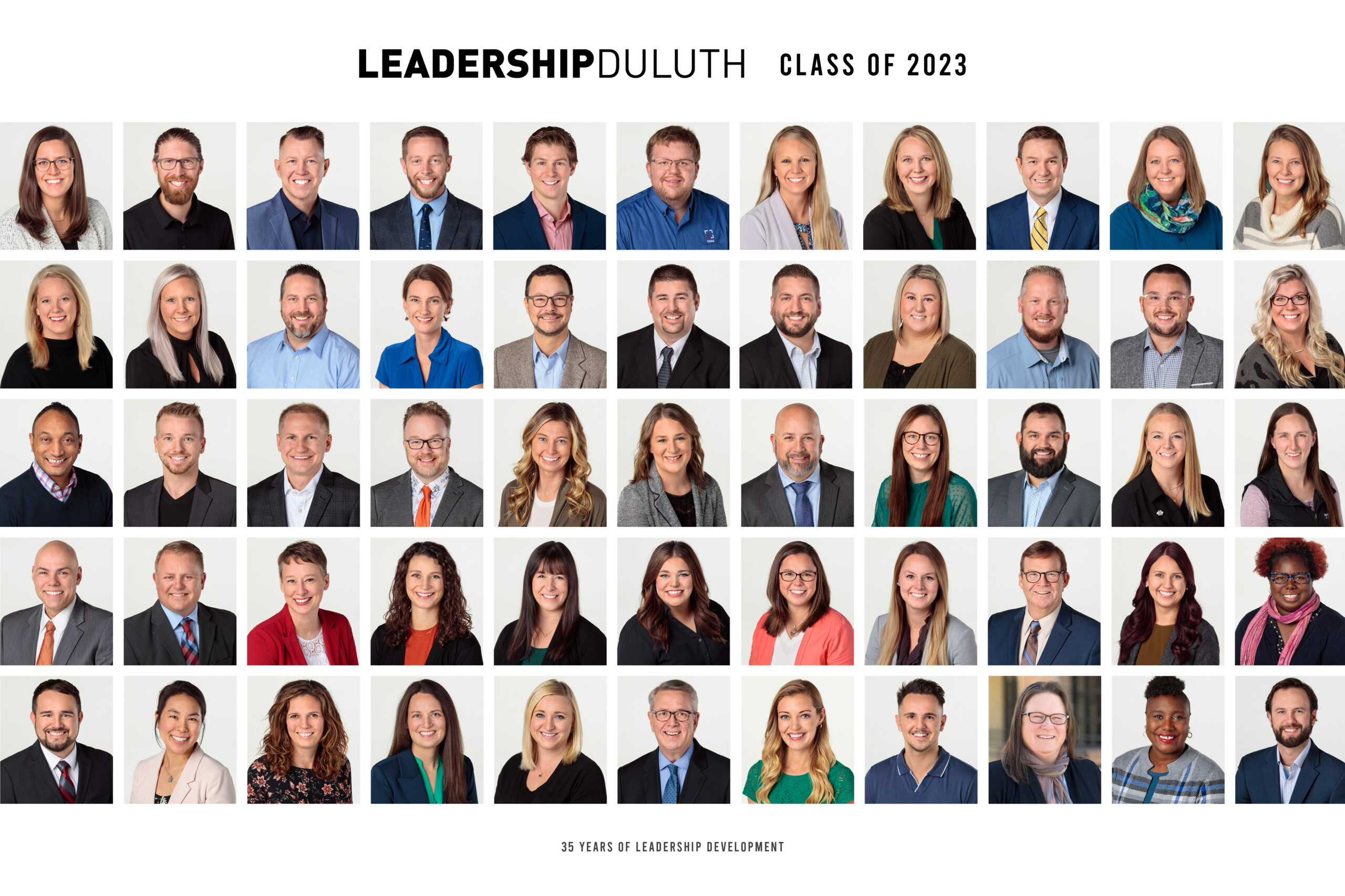 Charlene Aaseng, University of Minnesota Duluth
Troy Abfalter, The College of St. Scholastica
Chris Armstrong, MN Air National Guard – 148th Fighter Wing
Al Bastien, Members Cooperative Credit Union
Hunter Bergerson, J3 Insurance
William Beyer, TKDA
Becca Bohlman, Kraus-Anderson Construction Co.
Tiffany Bourassa, Architecture Advantage
Nick Campanario, St. Louis County
Tracy Chaplin Meisterheim, Co-Nexio
Dori Decker, Western Lake Superior Sanitary District
Paige Doty, Pizza Lucé
Cassie Ernest, North Shore Federal Credit Union
Aaron Fisher, ALLETE – Minnesota Power
Hannah Grunzke, Duluth Workforce Development
Asa Harting, Lagom Modular
Dustin Heckman, Glensheen
Brett Hiemenz, U.S. Bank
Linsy Holst, Northwestern Mutual
Jarrid Houston, DSGW Architects
David Humes, Involta
Emily James, Essentia Health
Dennis Johnson
Ryan Johnson, Symphonic Financial Advisors
Spencer Johnson, Altec
Tad Johnson, Avalon Alliance Property Management
Crystal Kirchner, MN Air National Guard – 148th Fighter Wing
Jen Kolquist, Marsh & McLennan Agency
Cory Kujawa, Cirrus Aircraft Corporation
Katie Lassi, STARBASE MN Duluth
Tim Leutgeb, Bent Paddle Brewing Company
Sarah Lyons, Lake Superior College
Megan Matson, National Bank of Commerce
Matthew McConico, Northern News Now
Todd Mell, LHB, Inc.
Bobbie Nielsen, Cirrus Aircraft Corporation
Casey Nies, Essentia Health
Jordan Nikunen, ALLETE – Minnesota Power
Nicole Opland, Udac, Inc
Emily Ranta, Duluth Area Family YMCA
Aili Ratike, North Shore Bank
Bret Reuter, Essentia Health
Katie Rohner, City of Duluth
Jeanine Schroer, University of Minnesota Duluth (PAVSA, Black Liberation Lab)
Nathan Smith, Duluth Public Schools ISD 709
Janice Solberg, Burns & McDonnell
Elsie Storm, Turning Life Gold
Whitney Sundquist, St. Luke's Hospital
Lisa Thomas, Duluth Entertainment Convention Center
Jerry Thoreson, Destination Duluth
Tiffany Tomassoni, Wheeler Associates
Matthew Tusken, Tracy Ramsay Group-RE/MAX Results
Andrea Wedul, Barr Engineering Co.
Stephanie Williams, Entrepreneur Fund
Scott Wishart, Frontier Energy
Thank you to all our community partners for supporting this program, especially our premier sponsor, North Shore Bank. We look forward to the next program starting in September.
The Duluth Area Chamber of Commerce serves as the premier advocate for commerce and industry by facilitating interaction among business, government, education, labor, and the greater community by actively creating innovative opportunities for business to advance within local and global economies and encourages fairness in the political process by serving to help educate our members rather than endorsing or supporting political parties or affiliations.
You may also be interested in:
Leah Kohlts
View recordings of the 2023 Candidate Forums, courtesy of the Duluth News Tribune: Duluth School Board District 3 (Henry Banks, Loren Martell) and At-Large (Allana Oswald, Stephanie Williams) Duluth Mayor (Roger Reinert, Emily Larson)
Leah Kohlts
The Powering Inclusion Summit, hosted by the Center for Economic Inclusion, is a powerful day featuring hundreds of the leading changemakers who are building wealth and opportunity in housing, economic development, business growth, and more
Chris Johnson
For more than three decades, Leadership Duluth has been educating and empowering Duluth area leaders to take an active role in the betterment of their community and workplaces.  Join us in congratulating the Leadership