D&SLC: Advancing the Priorities of Northeastern Minnesota in 2022
Northeastern Minnesota needs your help to be the voice of business to our elected officials.
In its 25th year, Duluth and St. Louis County at the Capitol Days is the largest regional advocacy event in the state. The Duluth Area Chamber is collaborating with the City of Duluth and St. Louis County, along with several community stakeholders, to bring the voice of Northeastern Minnesota to elected officials. Together with a unified voice, advocacy efforts generated by this event aim to attract funding for regional projects, tell the stories of our challenges, celebrate our accomplishments, and illustrate how Duluth and St. Louis County seek legislative support in 2022.
This event traditionally attracts over 500 people from Northeastern Minnesota. Throughout the day, Duluthians and Northeastern Minnesotans meet with legislators from all over Minnesota. The same evening, legislators and their staff join the contingency at an informal reception designed to promote continual dialogue. As a result of this event, lawmakers at the Capitol hear about our region's legislative initiatives directly from voters.
25th Annual
Duluth & St. Louis County at the Capitol Days
Wednesday, March 9, 2022 and Thursday, March 10, 2022
St. Paul, Minnesota
Join us in St. Paul at one or both of these events:
Grand Reception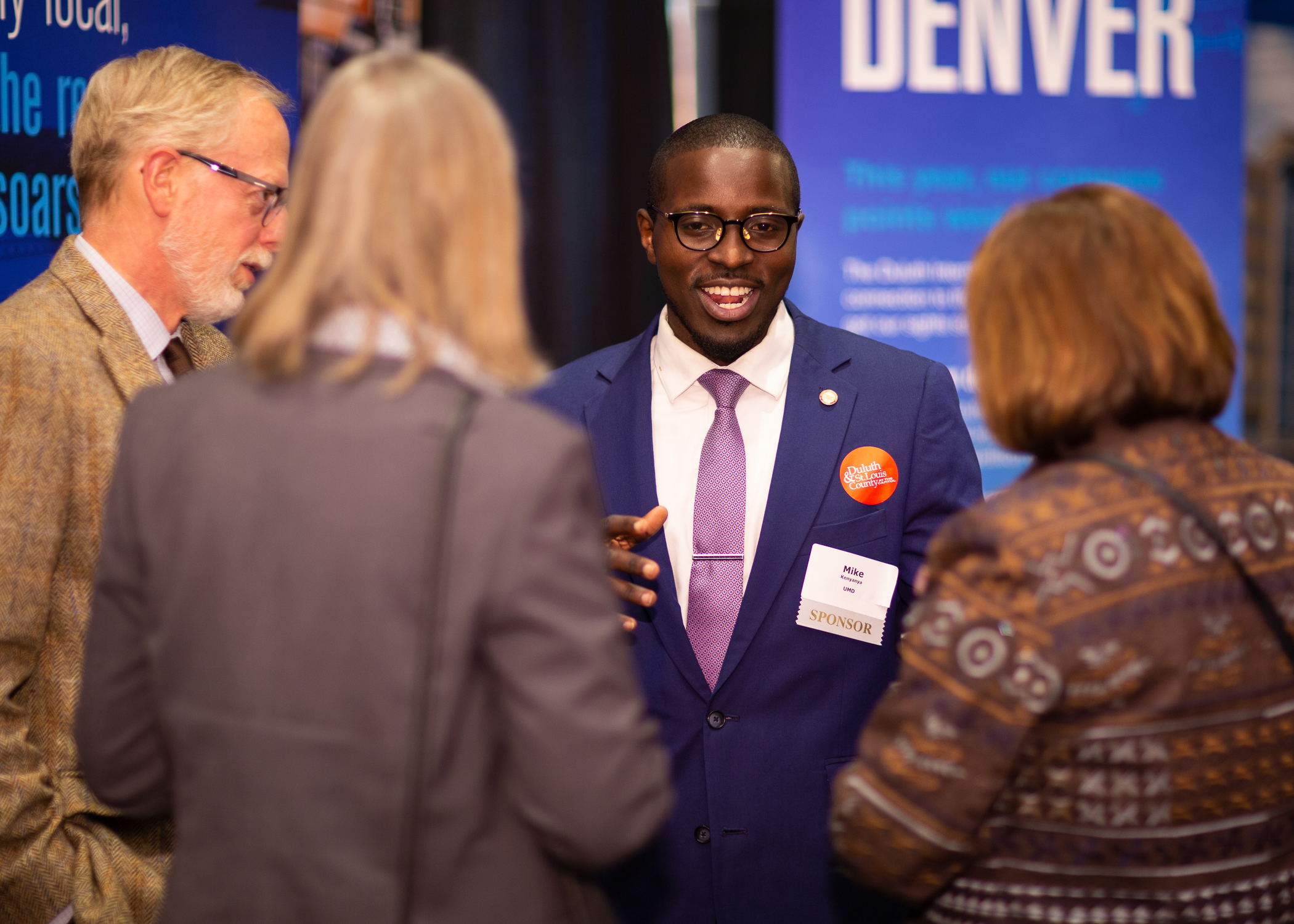 Legislators and their staff are invited to the Grand Reception to meet local stakeholders and discuss developments in the Northland. Visit vendor booths, enjoy local food and beverages and have our voices heard.
Wednesday, March 9
4:30pm – 8:00pm
InterContinental St. Paul Riverfront Hotel
Free to Attend
Both the Grand Reception and Legislative Breakfast are organized as in-person events in St. Paul. A contingency plan will be in place should we be unable to gather. No matter the platform, we remain dedicated to bringing the voice of Northeastern Minnesota to the Capitol.
"The COVID-19 pandemic has drastically impacted our region," states Chamber Director of Events Kathleen Privette. "It is critical to share with our elected officials how the 2022 legislative session can support Northeastern Minnesota through this pandemic and beyond.
Location & Hotel Accommodations: The location of the Grand Reception and the Legislative Breakfast will be, once again, at the InterContinental St. Paul Riverfront Hotel. I suggest reserving rooms sooner rather than later as they fill quickly. We have made a block of rooms at the InterContinental St. Paul Riverfront Hotel and at the St. Paul Hotel. Details are listed below.
 InterContinental Saint Paul Riverfront Hotel – Booking Link
Location of Grand Reception & Legislative Breakfast
11 East Kellogg BLVD, St. Paul
Saint Paul Hotel
350 Market Street, St. Paul
Call 1-800-292-9292 to make reservations.
Mention Duluth & St. Louis County at the Capitol Days or Duluth Area Chamber of Commerce to receive special rate. OR go online at www.saintpaulhotel.com, select the arrival and departure dates and enter 30822DSLC as the group/block code.
—
2022 Duluth and St. Louis County, Minnesota Priorities
The COVID-19 pandemic has stressed unique challenges to Northeastern Minnesota, making the 2022 legislative session a critical year to bring forth a unified message. Workforce shortages continue to affect all industries. Healthcare challenges persist with broadband utilization surpassing availability, food insecurity, and access to mental health care. Infrastructure investments are necessary to maintain proper sanitation and economic engines. The education funding has been difficult, buildings are needing repair, staffing is in peril. And these are just to name a few.
Each year, the Duluth Area Chamber of Commerce publishes a Legislative Priorities Booklet to detail the needs of our region and share the stories of our community. The booklet will be mailed to you, our valued Minnesota legislators, distributed at the Duluth & St. Louis County at the Capitol event, and is now available to you digitally.
The 2022 Priorities Booklet, linked below, is designed for optimal interaction:
Navigate through the Table of Contents.
Follow the links to continue reading about each entity and priority.
Engage with our sponsors by visiting their websites.
Locate easy access to D&SLC Event information.