Chamber Advocates in Support of the Drink Local Economic Recovery Act
The Duluth Area Chamber, on behalf of its many Chamber members who operate bars, breweries, brewpubs, cideries, distilleries, liquor stores, restaurants, and wineries, has written a letter of support advocating for the passing of The Drink Local Economic Recovery Act.
The COVID-19 pandemic has drastically affected the food & beverage industry in Minnesota, with more than 94 establishments closing permanently in 2020—three times as many as 2019. The hospitality industry generates more than 20% of the sales tax in Minnesota, and is essential to the heartbeat of our state economy.
Passing this bill will aid in the economic growth and recovery of our state by allowing craft beverage producers, wholesalers, and liquor stores to access increased revenue opportunities through the lessening of restrictions on to-go beverage container sizes and per-person sales limits, as well as allowing restaurants and bars to permanently sell limited amounts of beer, wine, and cocktails to-go with takeout orders. This will, in turn, lead to the rehiring of up to 100,000 hospitality jobs throughout Minnesota and a substantial infusion of income for the state's numerous food and beverage proprietors.
More specifically, the Drink Local Economic Recovery Act will:
Allow all breweries to sell beer to-go in cans, bottles, and growlers up to 64oz, with a per person/day purchase limit of 768oz (and an annual limit of 750 bbls)
Allow brewpubs to distribute up to 200 barrels of their own product
Allow cideries to have more access to the market through up to 75,000 gallons of self-distribution
Create more standard taxation for cideries/wineries to align with federal statute
Allow distilleries to sell up to 1.5 liters per person/day
Allow bars and restaurants to permanently sell limited amounts of beer (72oz), wine (1 bottle), and cocktails (34oz) to go with take-out orders
Allow liquor stores & bars/restaurant to fill growlers
The Duluth Area Chamber of Commerce is a tireless advocate for its more than 1,000 members. We must ensure that our food & beverage businesses, who contribute greatly to the economic prosperity of our state, may continue to thrive. This bill will lead to job growth throughout Minnesota with the rehiring of previously laid-off workers, aid in financial recovery for the many hospitality businesses who suffered losses under the COVID-19 pandemic restrictions, and usher in a new period of state-wide economic prosperity.
Supporting this bill aligns directly with several of the Duluth Chamber's 2021 Key Initiatives, which include the following:
COVID-19 RECOVERY: Serve our members as a trusted source for: advocacy, information, and encouragement as we, together, fortify our business community's recovery from the COVID-19 pandemic.
ECONOMIC DEVELOPMENT: Champion economic development which will enhance our community by expanding our tax base and create new jobs.
LEGISLATIVE ADVOCACY: Encourage local elected officials to make decisions which create a supportive environment for doing business in our area.
The Duluth Area Chamber remains a steadfast advocate for its members, and are committed to our mission of moving business forward. We are here for you. Your success is our success.
Brighter days are on the horizon—We will welcome them together.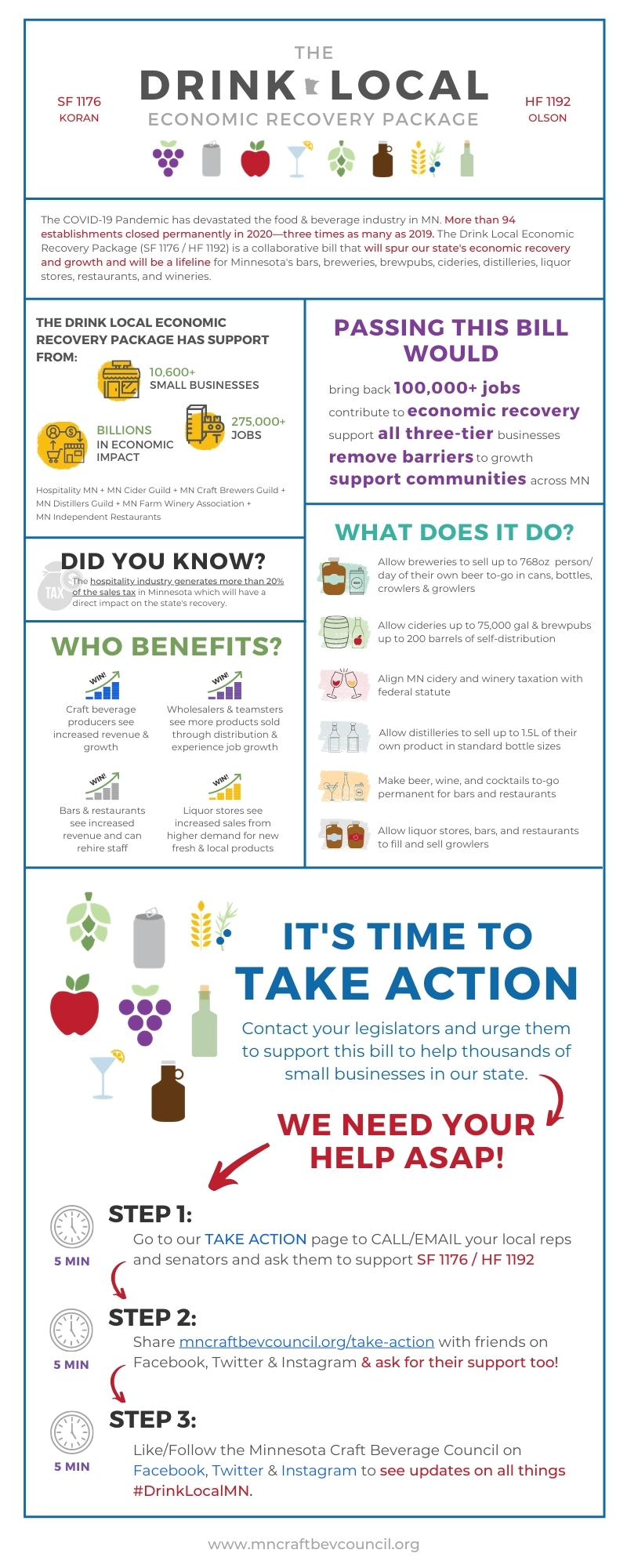 About the Chamber:
The Duluth Area Chamber of Commerce serves as the premier advocate for commerce and industry by facilitating interaction among business, government, education, labor, and the greater community by actively creating innovative opportunities for business to advance within local and global economies and encourages fairness in the political process by serving to help educate our members rather than endorsing or supporting political parties or affiliations.
You may also be interested in:
Chris Johnson
The 2023 Minnesota legislative session adjourned Monday night, wrapping up what has been a very busy and eventful several months. We, at the Duluth Area Chamber of Commerce and Duluth Area Chamber Foundation, have
Chris Johnson
Thank you to the record number or participants who joined us for the 26th Annual Duluth & St. Louis County Days at the Capitol event last week. Numbers are now confirmed and nearly 600
Chris Johnson
Advocacy for Northeastern Minnesota Priorities We are strong together: Northeastern Minnesota needs your help to be the voice of business to our elected officials. Please join us for Duluth and St. Louis County Days