THE FORUM
Think of it as a modern spin on the town hall meeting. A gathering place to discuss issues that affect businesses, THE FORUM endeavors to inspire candid conversation among people of diverse interests and opinions. Advocacy for businesses.
THE FORUM is an exciting way of exchanging information; always unpredictable, always opinionated, always to the point. Hear a variety of Chamber members, politicians, and in-the-know persons debate current issues. Your input is not only invited, it is sought. Make sure your voice is heard.
THE FORUM is held monthly on an as needed basis to address current business issues. This event is hosted at Valentini's Vicino Lago at 8:00 am. 
Chamber member interests will drive FORUM topics. Because the FORUM is another way for us to respond to our members' concerns, we plan on addressing some of the following topics:
Economic development and stability in Duluth
The image of Duluth around the state
Local taxes
Health care costs for businesses
Government regulations
Zoning issues in the city of Duluth
View the Events Page to register for the upcoming Forum.
2017 FORUM Sponsored by:
---
Military Affairs Committee
Public Policy supports the Military Affairs Committee. Essentially, this group is educational and supports the military installations and the jobs they bring to northeastern Minnesota. Further, this group is intended to be informational in nature. The group does not offer opinions on US foreign policy.
Philosophy: The Duluth Area Chamber of Commerce Military Affairs Committee promotes and supports the economic impacts of local branches of the military.  The military is a significant contributor to our community's economic health and welfare.  The Committee will work to support the military initiatives through the legislative and governmental channels as well as through garnering community support.
Call The Chamber at 218.722.5501, email inquiry*AT*duluthchamber.com for more information about the Military Affairs Member Meeting.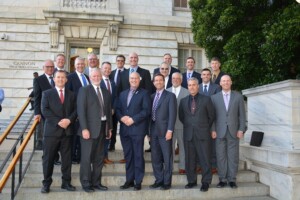 ---
Click here to view Duluth & St. Louis County at the Capitol.